Prepping veal sweetbreads is quite a time-consuming and involved process with many steps. But for those intrepid home cooks who want that restaurant indulgence at home, here goes:

1. Remove from package and rinse in running water.
2. Add to a pot and cover with cold water.
3. Add a tablespoon of salt for each pound of sweetbreads. Bring water up to simmer.
4. As soon as it hits a simmer, turn the heat off. Let sit in water for 15 minutes.
5. Remove from water. Pat dry.
6. Wrap in saran wrap or towels. Weigh down. Ideally put between 2 sheet pans and put a couple of cans on top. Place in fridge overnight.
7. The membrane of the sweetbreads is slightly tough, and must be peeled. Peel the membrane like you would peel a roasted pepper.

8. Sear in high-temp oil over medium-heat until browned. Turn down the heat, empty the oil. Add butter. Baste the sweet breads in butter for about 5 minutes on medium-low heat.

Then, it's time to finish them. Check out these veal sweetbread recipes for ideas and inspiration.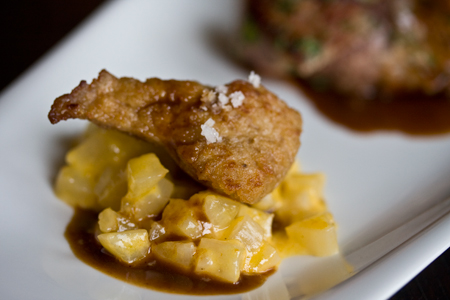 ___________
Browse More:
Offal Recipes
Veal Recipes
Culinary Techniques
Meat Tips & Techniques