Sweetbreads are an organ meat from the thymus gland and pancreas, usually of lamb or veal. They are prized for their mild flavor and creamy texture. Of the two animals, veal sweetbreads are almost universally considered the best. Prepping sweetbreads is quite a time-consuming and involved process with many steps, but it's a great weekend project for intrepid home cooks with delicious rewards. Try these veal sweetbread recipes and you'll see what we mean.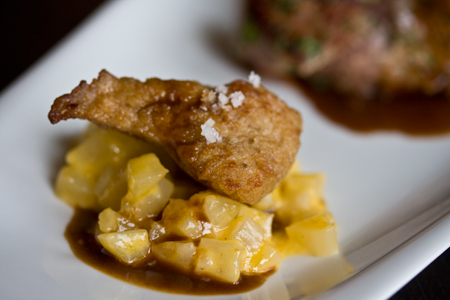 DIRECTIONS
1
Remove from package and rinse in running water.
2
Add to a pot and cover with cold water.
3
Add a tablespoon of salt for each pound of sweetbreads. Bring water up to simmer.
4
As soon as it hits a simmer, turn the heat off. Let sit in water for 15 minutes.
5
Remove from water. Pat dry.
6
Wrap in saran wrap or towels. Weigh down. Ideally put between 2 sheet pans and put a couple of cans on top. Place in fridge overnight.
7
The membrane of the sweetbreads is slightly tough and must be peeled. Peel the membrane like you would peel a roasted pepper.

8
To cook sweetbreads, sear in high-temp oil over medium-heat until browned. Turn down the heat, empty the oil. Add butter. Baste the sweet breads in butter for about 5 minutes on medium-low heat. Seared sweetbreads can be used in various ways. Check out these
veal sweetbread recipes
for ideas and inspiration.