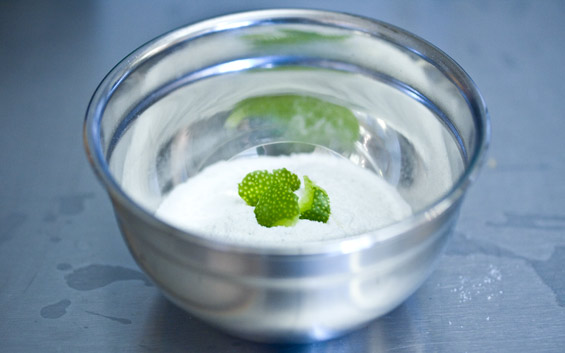 Flavored sugars are incredibly easy to make and can be used as an ingredient in desserts and beverages, served to the side of coffee and tea, used to rim cocktail glasses, or sprinkled over the top of completed desserts just before serving.  All you need is some sugar (we recommend superfine sugar) a coffee or spice grinder, and your flavoring ingredient.
We've included several recipes below, but you could use almost any dry grindable ingredient (whole spices, dried herbs, citrus zest, chilies, other sweeteners like maple sugar, etc).
Start with one tablespoon of sugar, and some of your flavor ingredient, and increase one or the other as needed to get the balance you want (blending before each taste).  You can even try blending flavors!  The finished sugar will have a consistency somewhat similar to powdered sugar.
Flavored Sugar Recipes We Like:
Lavender Sugar
Grind ½ tsp Dried Lavender Buds along with 4 tbsp of sugar.

Chile Sugar
Remove the stems and seeds from half of a Dried Aji Panca Chile.  Grind it with 2 tbsp of sugar.
Variations:
• Try any other dried mild chilies, tweaking the amount of sugar as necessary.

Cardamom Sugar
Crack and empty enough whole cardamom pods to gather ¼ tsp of seeds.  Grind them with 3 tbsp of sugar.
Lime Sugar
Zest of 1 Lime
2 tbsp Sugar
1.  Preheat your oven or toaster oven to 225 degrees.
2.  Using a vegetable peeler, remove the zest of one lime in large strips.
3.  Use the point of a knife blade to scrape the white pith off the inside of the rind.
4.  Slice the rind into thin strips.  Spread them out on parchment paper on a baking sheet.
5.  Place the zest in the oven, and bake for 5 minutes.  Check the zest.  Any pieces that are completely stiff and dried out are done.  Remove them from the oven before the zest scorches.
6.  Continue to bake the rest of the zest, checking every few minutes, until all of it is dry.  Discard any strips that have browned, as they will be excessively bitter.
7.  Grind sugar and lime zest together.  Taste, and add more sugar if you feel it's too strong.
Variations:
• Substitute zest from a different citrus fruit, such as lemon, orange, or Buddha hand.
• Use this technique with leftover hard candied citrus zest, just skip to step 7 and use
less sugar.


Ground Vanilla Sugar
Much stronger than vanilla scented sugar!  Try using this to make decadent whipped cream!
2 Vanilla Beans (Bourbon Vanilla Beans or Tahitian Vanilla Beans)
2 tbsp Sugar
1.  Leave the vanilla beans out on your counter, uncovered, until they are completely dried out and snap without bending (how long this takes depends on your climate and how old the beans are…but expect it to take a couple of days).
2.  Snap the beans in halves or quarters and grind them with the sugar.



Candy-Cap Sugar
(used in our Candy Cap Panna Cotta Recipe)
This sugar really shows off the maple-like flavor of raw candy-cap mushrooms.  Just grind 1/4th of a cup of dried candy cap mushrooms with 1 tbsp of sugar.

Hibiscus Sugar:
Great for rimming cocktail glasses! Check it out in our Hibiscus Rose Margarita Recipe.
2 tbsp crushed Dried Hibiscus Blossoms
2 tbsp Granulated Sugar
Got any flavored sugar recipes you love?  Leave us a comment below to share!
___________
Browse More:
Dessert Recipes
Sweetener Recipes
Culinary Techniques