Candy Cap Mushroom Panna Cotta
Makes 6 Servings
WINE PAIRING
Vin Santo or aged Sauternes
Yes, you read that right, a mushroom dessert! Panna cotta is a smooth, incredibly creamy dessert gelled with gelatin. And yes, this candy cap panna cotta tastes like mushrooms. But it's good, we swear!
The reason it works is because of candy cap mushrooms' unique toasted-maple flavor and natural sweetness. They're a cutting edge pastry chef favorite that you just have to try.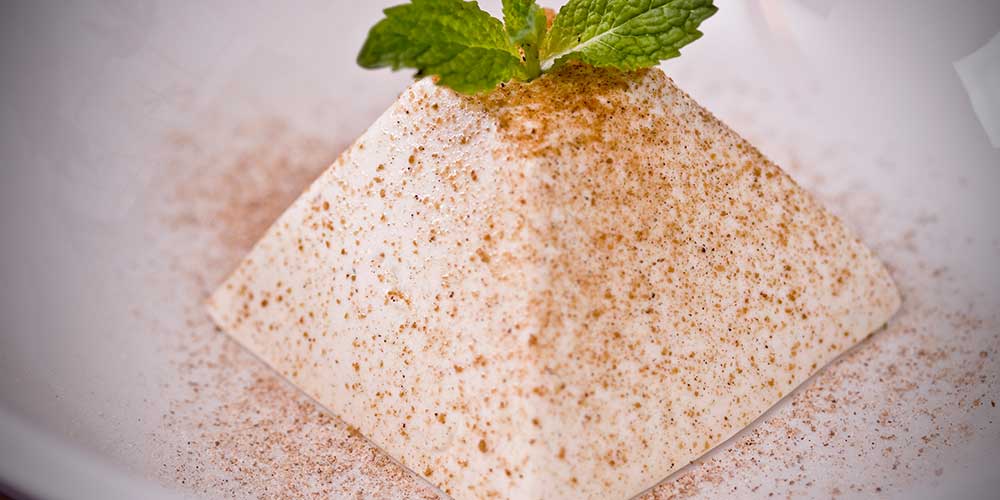 INGREDIENTS
4 cups of heavy cream (we recommend 40%+ fat content (aka manufacturing cream) for best texture and flavor, but you could use any cream or milk, including half and half or even skim milk)

1 tbsp vanilla sugar

3 + ½ tsp unflavored powdered gelatin

Neutral flavored oil (optional)

Fresh mint for garnish
DIRECTIONS
1
Heat the cream in a saucepan along with 1 cup of the candy caps and the superfine sugar/cane juice.
2
Once it is hot (about 180 degrees, still below a simmer), cover and let stand for 30 minutes to infuse the mushrooms.
3
Using a spice grinder or coffee grinder, grind the remaining 1/4th cup of candy caps into a fine powder. Mix the powder with the vanilla sugar in a small bowl.
4
Bloom your gelatin by soaking it in cold water until the granules or sheets have swelled (when in doubt, see blooming directions on your gelatin box).
5
Lightly oil ramekins, coffee cups, etc to use as molds for your panna cotta using the neutral flavored oil. If you're using silicon shaped molds (as we have) you can skip this step.
6
Strain the candy caps out of the cream using a chinois or other very fine mesh strainer. Discard the mushrooms.
7
Remove the gelatin from the water, and stir it into the warm cream (if the cream isn't warm to the touch, return it to the heat long enough to dissolve the gelatin).
8
Using a ladle, fill your molds, ramekins, or cups with the panna cotta base.
9
Carefully transfer the panna cotta to the fridge to gel (2-4 hours).
10
Once the panna cotta has gelled, carefully remove it from the molds. If it isn't coming out easily or is breaking, try dipping the bottom of the molds in warm water to help loosen it.
11
Dust the plated panna cotta with the candy cap and vanilla sugar mixture, garnish with a sprig of mint, and serve.