Need to do fine detail piping work on short notice and don't have a pastry bag handy?  Don't worry, if you've got parchment paper, you've got a paper piping bag (aka a cornet).  This same technique can also be used to make large paper cones for holding goodies (for an example, see our fish & chips recipe).
Directions:
1. For a small piping bag, cut a 6" by 6" square of parchment paper.  This technique will work with any sized square, however, so you can go bigger or smaller.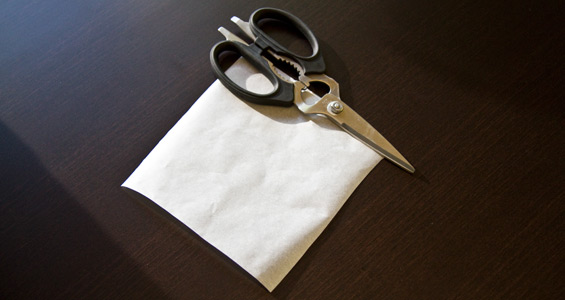 2. Fold the square in half diagonally and cut along the fold to create two triangles.  Each triangle can be made into a cornet.
3. Take the corners at either edge of one triangle's longest side, and pull them towards (and eventually past) each other to create a cone with a point formed by the curled long side.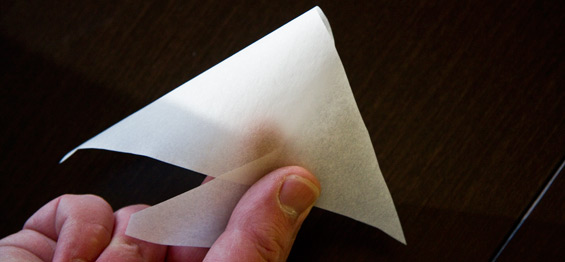 4. Insert a finger into the cone and use it to maintain the shape while pushing or pulling the corners to form the size of point you'd prefer (obviously, the smaller the whole in the point, the finer the stream of frosting or chocolate that will come out).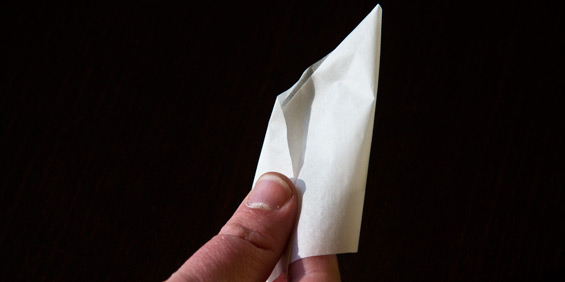 5. Once you've got the cone calibrated the way you like, take the corners that are sticking out from the wide mouth of the cone and fold them into the mouth, so that the top of the cone is uniform.  This will keep your cornet from unraveling.
6. Fill the cornet with frosting or seized chocolate.  Particularly when working with a cornet for the first time, use less than you think you can fit to prevent blowouts or the top overflowing.
7. Fold the top of the cone over to close it.  Hold the point of the cornet as you would a pencil and gently push in and down from the top to extrude the chocolate or frosting.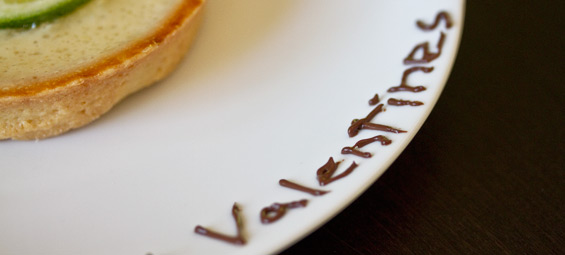 Note: if you're working with chocolate and it solidifies in the tip, you may be able to clip the tip off with a pair of culinary sheers and keep working.  Cornets can be refilled, but if the outside gets messy you're probably just better off making a new one.
___________
Browse More:
Culinary Techniques
Dessert Techniques & Recipes