Perch and Sunchoke Fish & Chips with Caper & Piquillo Tartar Sauce
Makes 4 Servings
DRINK PAIRING
Pilsner or Hefeweizen Beer
Perch in tempura batter fries up buttery, crunchy, and fluffy, yet firm, a great sustainable alternative to overfished Atlantic cod. Sunchoke chips offer a more complex creamy-sweet flavor than conventional potato chips.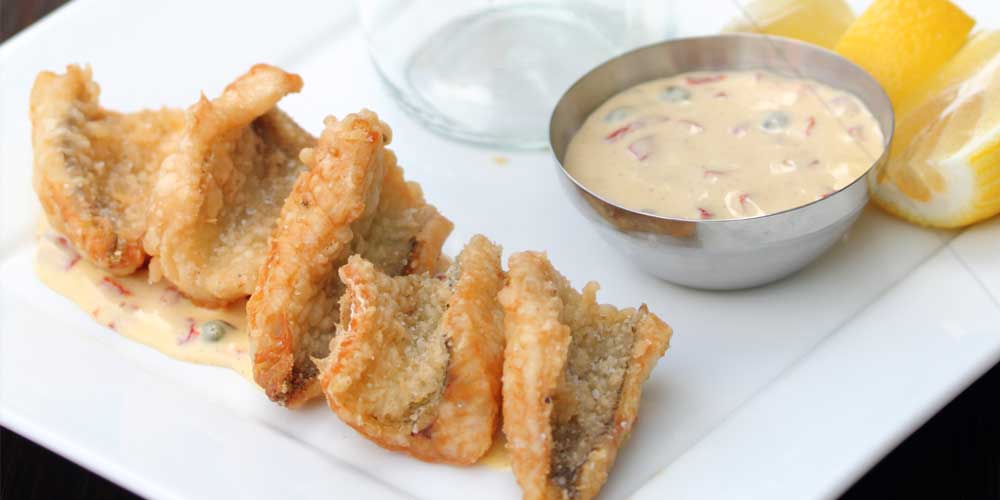 INGREDIENTS
3 Egg Yolks

2lbs of Sunchokes

Up to 16 oz Olive oil & Grapeseed Oil for Aioli (amount varies)

½ tsp Dijon Mustard

A splash of Champagne Vinegar

2 Piquillo Peppers, chopped

1 tbsp Capers, rinsed

1 cup of Rice Flour

¾ cup Sparkling Water

Canola Oil for frying
OPTIONAL:

Truffle Oil or Truffle Salt
DIRECTIONS
1
For the tartar sauce:
Make a
basic mayonnaise
with the two egg yolks, Champagne Vinegar, a pinch of salt, Dijon mustard and 50% Olive Oil, 50% Grapeseed Oil. Stir in the pequillos and capers.
2
Thinly slice the sunchokes, with the skin on, using a mandoline. Soak in water & fry in 375 degree oil following the instructions at
how to make homemade chips
. We recommend salting with truffle salt or drizzling with truffle oil while still hot.
3
Cut the butterflied perch fillets in half. Lightly salt them.
4
Make the tempura batter by lightly mixing together the remaining egg yolk (beaten), sparkling water, salt and pepper and the rice flour. If it's too thin add more flour, if it's too thick, add water.
5
Dip the perch fillets in the batter, and fry them in 375 degree oil until lightly golden brown. Drain on paper towels.
6
Serve the fried perch with the sunchoke chips and tartar sauce.