How To Flash-Infuse Alcohol
With an isi cream whipper and some gas chargers (N20) you can infuse small amounts of alcohol with incredible flavors and colors in one minute. This has become a favorite technique since we first read about it on the International Culinary Center's Tech 'N Stuff blog Cooking Issues.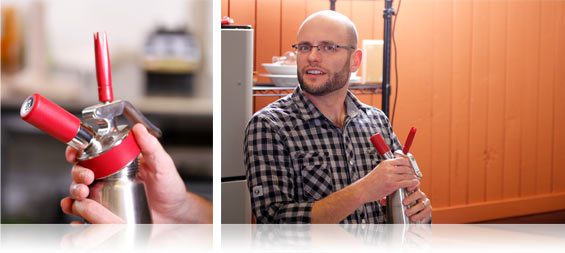 DIRECTIONS
1
Get your hands on a cream whipper. We use iSi's .5L (1 pint) Gourmet Whip Plus. (The Cooking Issues crew used the full liter (quart) model of the same product with great results. We don't know how well the .25L (1/2 pint) model will work. Presumably iSi's other whippers or similar products by other manufacturers will also work.)
2
Load the whipper with the room temperature liquor of your choice. We get reliably good results infusing 120ml of liquor with 1 charger. (The Cooking Issues crew used the larger (1 liter) Gourmet Whip and were able to infuse 120ml with one charger or 360ml with two chargers.)

4
Charge the whipper with N2O gas. Gently swirl the bottom of the whipper for 30 seconds. Let the whipper stand for an additional 30 seconds. Release the gas.
5
Pour out the alcohol through a fine mesh strainer. Rinse out the whipper's canister completely before infusing another flavor.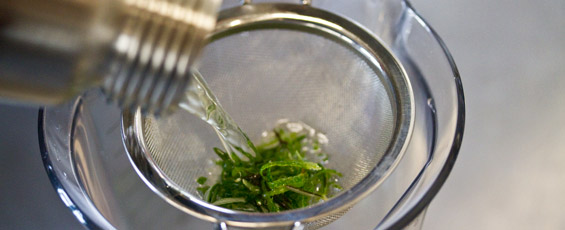 6
Drink the flash-infused alcohol on the rocks or use in cocktails & other recipes.
RECIPES FOR FLASH-INFUSED ALCOHOL
Note: We have not tested these recipes well enough to discover what is "the best" form of ingredients to use, so when we specify specific thicknesses, piece-sizes, types/brands of liquor, etc, we do so to help you replicate our results. You may be able to get good or even better results by changing things up. Cheers!
Chocolate (Cacao) Vodka
120ml Vodka (we used Luksusowa)
2 tbsp Cacao Nibs
1 Charger

This infusion still tastes like vodka, with a slight brown tint and an additional mild, smooth chocolate flavor. (The Cooking Issues team made a much darker (and likely more potent) chocolate vodka from cacao nibs, but they don't specify how much they used. Presumably you can amp up the flavor considerably by increasing the number of nibs used.)
Dulce Button Vodka
120ml Vodka (we used Smirnoff)
5 Dulce Buttons, lightly chopped
1 Charger

This infusion creates a sweeter, smoother vodka without making it too sweet. Let it sit for 1 minute after the 30 second swirl rather than the usual 30 seconds.
Grapefruit Vodka
120ml Vodka (we used Luksusowa)
Zest of 1 Grapefruit or Pink Grapefruit in large strips
1 Charger

This infusion still tastes like vodka, but with a grapefruit finish similar to lightly flavored, no sugar added sparkling waters (Talking Rain brand, for example). The grapefruit doesn't really impart sweetness, but rather a citrus zing that almost feels effervescent, perhaps because it evokes citrus mineral water so much.
Szechuan Button Vodka
Let sit for 5-10 minutes rather than 30 seconds after the swirl for best results. This infusion tastes like vodka but has a good amount of Szechuan buttons' tingle. A great way to add electric zing to your cocktails!


Lime Vodka
120ml vodka (we used Smirnoff)
Zest of 3 Limes, finely zested/sliced
1 Charger

This infusion has a beautiful, deep green color with a bit of lime up front and a distinct lime finish.


Vanilla Bean Vodka
2 Vanilla Beans, split & quartered (we used Bourbon Vanilla Beans)
1/2 cup Vodka (we used Smirnoff)
1 Charger

This delicate vodka has the aroma and a little bit of the flavor of vanilla, plus some tiny vanilla seeds. The vanilla's potency is enough to round-out the vodka's flavor without overpowering it.
Huckleberry Vodka
A beautiful, pink-tinged vodka with a bit of fruitiness and huckleberry flavor. Not nearly as strong as huckleberry puree or huckleberry simple syrup. A great way to bring natural color to straight-up martinis without modifying their flavor overmuch. Try our recipe for a Huckleberry Martini.
Cucumber Gin
120ml Gin (we used Bombay Sapphire)
3oz of Cucumber (approximately 2-2.5 inches of a large cucumber), thinly sliced
1 Charger

This infusion doesn't impart much identifiable cucumber flavor, but does soften the edges on the gin, giving the liquor a "rounded out" range of flavors. Great with club soda on the rocks!
Autumn Bourbon
120ml Bourbon (we used Maker's Mark)
15 Pink Peppercorns
6 whole Star Anise pieces
Zest of 1 & 3/4ths Oranges, finely zested/sliced
1 Charger

This bourbon infusion tastes like autumn in a shot glass. The peppercorns provide some heat, the anise body, and the orange zest the final piece of the puzzle. We love it. Try our recipe for Elderflower Fall-Hattan.