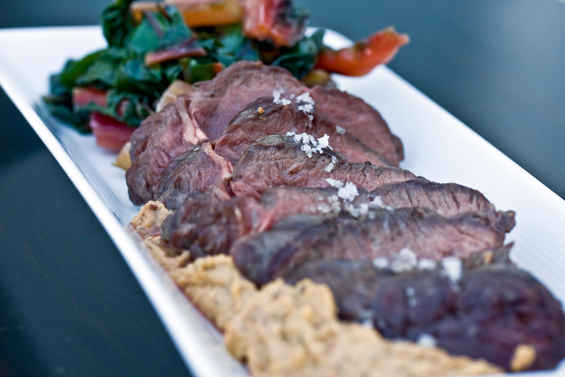 Grilled Kangaroo Loin with Rainbow Chard and Romesco
(serves 4-5)
This dish is a great way to showcase the flavor of kangaroo meat.
Ingredients:
Two or three kangaroo loins or deboned kangaroo racks
(see How to Debone a Rack for instructions)
Light olive oil to lubricate wok
A half bunch of rainbow chard
1 lemon
Salt

And – Romesco Recipe
1. Saute rainbow chard in oiled wok over medium heat with salt, pepper for a few minutes until the leaves have wilted. Finish with a little fresh-squeezed lemon juice. Set aside.

2. Dry and season the kangaroo loins with a little salt, pepper and grill on a clean, well oiled grill to desired internal temperature.

Internal Cooking Temps for Kangaroo:
Rare – 135°
Medium Rare – 140°-150°
Medium – 140°-145°
Medium Well – 160°
Well Done – 165° and above
3. Slice kangaroo loin and serve over a smear of romesco with the rainbow chard on the side and top with a pinch of finishing salt.



___________
Browse More:
Kangaroo Recipes