What is a Romesco?
A romesco (aka salsa romesco) is a sauce (really, a smooth paste) from the Catalan region of Spain.  It can be made many different ways, but the core ingredients are traditionally fried bread, almonds and hazelnuts, vinegar, garlic, and tomatoes.
How to Make a Romesco:
This more modern romesco uses tea biscuits (or in this case shortbread cookies) instead of fried bread.
Ingredients:
¾ cup hazelnuts
¾ cup almonds
Dried red chiles –low/med heat (2 aji panca chilies and 1 de arbol chile used)
3 tomatoes (canned or fresh)
¼ cup champagne vinegar
¼ cup fresh parsley
8-10 leaves fresh mint 
~ 1 1/2 cup light olive oil
1-2 tea biscuits (we used shortbread (only one due to sugar content))
Procedure:
1.  Spread hazelnuts and almonds onto a sheet pan and toast in a single layer for about 10 minutes in a 375 oven until golden brown and fragrant.
2. Reconstitute the dried chiles.
3.  Add the toasted nuts to a blender or food processor with tomatoes, mint, parsley, reconstituted chilies, biscuits and vinegar. Blend.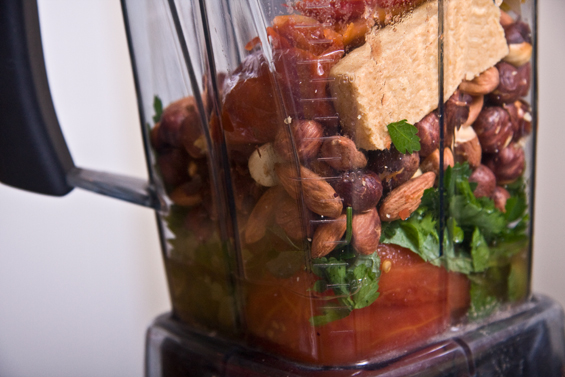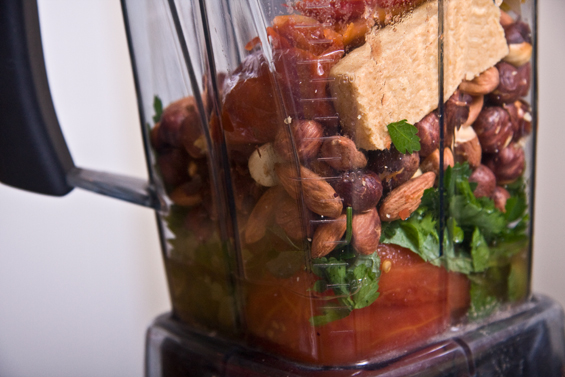 4.  Slowly drizzle in olive oil until emulsion is formed.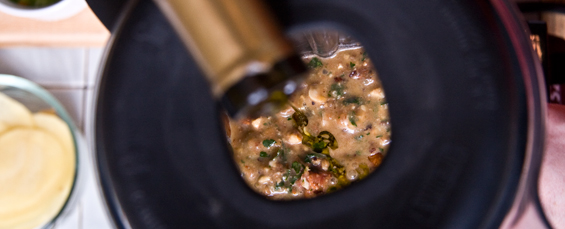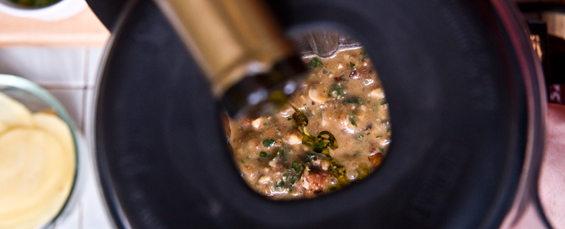 5. The end result should be thick, almost a hummus consistency.


___________
Browse More:
Dried Chile Recipes & Techniques
Oil Recipes
Fresh Herb Recipes