Geoduck chowder is delicious, comforting, and easy to make. It's a great way to utilize the geoduck's tender body meat after you'd sliced the crisp neck meat for geoduck sashimi or other applications.
Here's our version, which is a little different (it omits the cream or tomatoes often found in clam chowders) but very, very satisfying.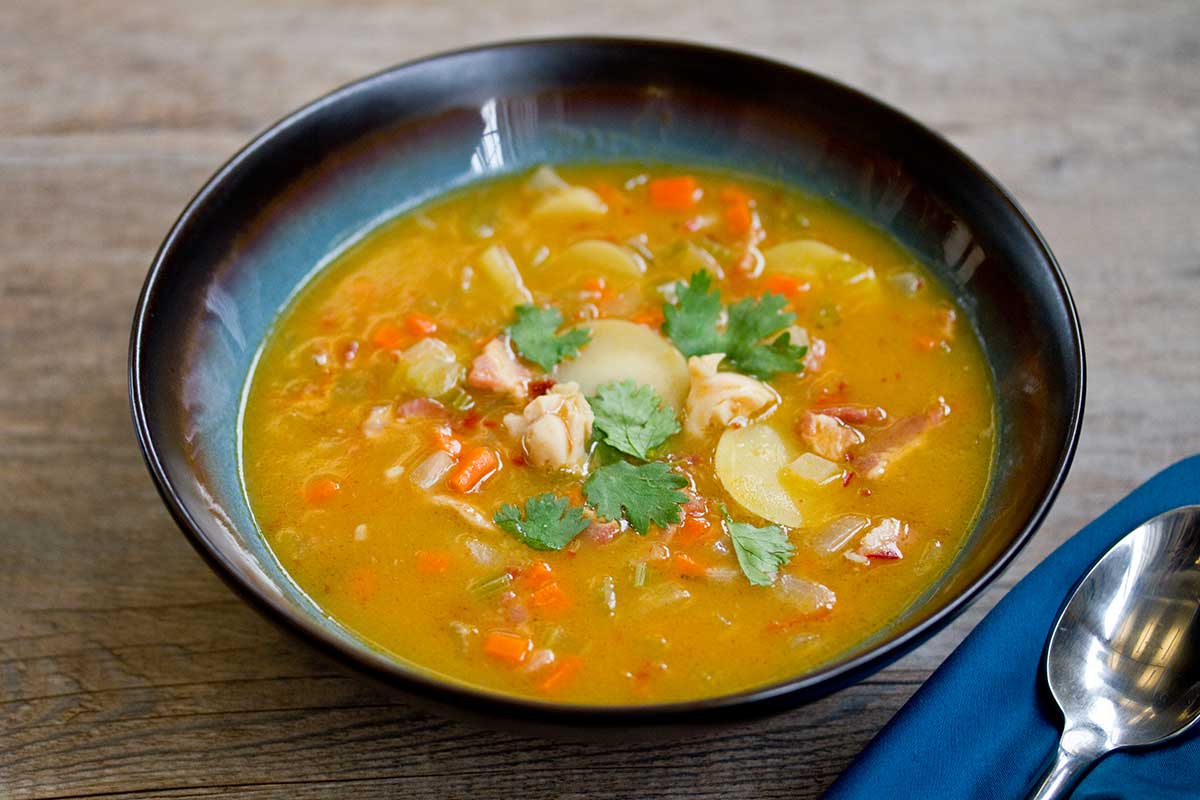 INGREDIENTS
Body/mantle meat of two Geoducks, chopped (how to prepare a geoduck)
Dried Nora Chilies (could also use your dried chiles of choice or omit)

3 thick strips of Bacon, cubed

1/2 cup Carrot, finely chopped

1/2 cup Celery, finely chopped

1/2 cup Onion, finely chopped

2 cups Potatoes, thinly sliced (we used fingerling potatoes)

1/8th tsp Dried Thyme

1 Bay Leaf

8oz Clam Juice/Broth

32oz Vegetable Stock

2 tbsp All Purpose Flour

3 tbsp Unsalted Butter

Flat Leaf/Italian Parsley for Garnish
DIRECTIONS
2
Add the cubed bacon to a medium pot and slowly render the fat out over low heat. Once the bacon is crispy, remove it from the pan & reserve it, leaving the fat.

3
Sweat carrots, celery & onions in the bacon fat. Remove from pan (leaving fat) & reserve.

4
Add the butter and the flour to the pot & toast to make a blond roux (
how to make a roux
). You may have to add a little more flour or butter depending on the amount of residual bacon fat in the pan.
5
Add potatoes, clam broth, thyme, bay leaf, veggies, chile & veggie stock. You can also return the bacon to the pan at this point, or save it for sprinkling over the soup just before serving.

6
Simmer
until potatoes are near tender & soup has thickened, then add the geoduck meat.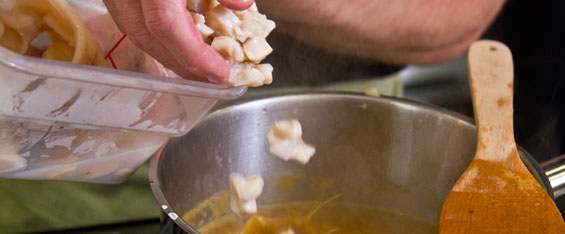 7
Cook for a few more minutes, until the geoduck has cooked through. Taste & season with salt & pepper.
8
Serve garnished with the parsley (and the bacon if you held it out of the pot).