Try using these recipes along with basic braising techniques to braise your favorite roasts, ribs, osso bucco and more!
Mire Poix & Tomato Paste Braising Liquid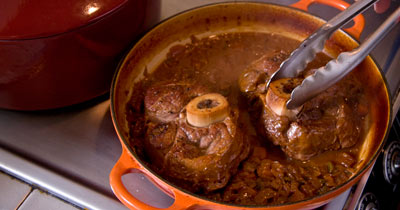 i. Add 1.5 cups mire poix to dutch oven stirring occasionally, until caramelized
ii. Add a teaspoon of tomato paste, stir into mire poix and cook for a couple minutes
iii. Add cup of red wine
iv. Scrape the pan to release the fond
v. Reduce liquid by half to three-quarters, or until the liquid is thick.
vi. Once the braising liquid is thick, return osso bucco to pan. Rub the osso bucco in the liquid, then flip it over, rub the other side in the liquid and let sit.
vii. Add simmering stock to the braising pan. Add enough stock to cover meat half-way or you can cover the meat completely, depending on how much liquid you want in the final dish.
Port & Red Wine Braising Liquid
i. Add a tablespoon of butter to the dutch oven
ii. Add a sliced onion and cook on high until browned
iii. Deglaze with cup each of port and red wine
iv. Reduce by ¼
v. Add 1 bay leaf and a couple sprigs of fresh thyme
vi. Return the meat to the pan
vii. Add 2 cups of simmering demi-glace
Classic Italian Braising Liquid



i. Add 1 cup mire poix, 3 whole garlic cloves and ¼ leeks
ii. Sweat the vegetables, but do not caramelize.
iii. Add 1 large sprig each of thyme and rosemary
iv. Add half-bottle of red wine (Brunello)
v. Add quart of simmering veal stock
vi. Do not reduce.
Garlic & Tomatoes Braising Liquid
i. Add 1.5 cups mire poix and 2 minced cloves garlic. Brown slightly.
ii. Deglaze with 1.5 cups of red wine
iii. Add a sprig each of rosemary and thyme
iv. Add 2 large cubed roma tomatoes
v. Reduce to cook down the tomatoes and until the liquid thickens a bit.

Coconut Milk Braising Liquid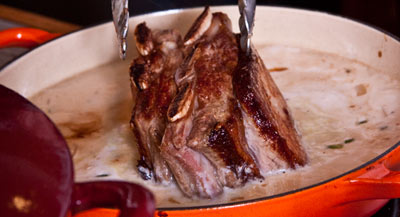 i. Add ½ cup onion and 3 tablespoons each of garlic, jalapeno and ginger. Sweat.
ii. Add 8 oz. coconut milk & 24 oz. chicken stock
___________
Browse More:
Culinary Techniques
Sauce Recipes
Meat Recipes