BRAISED PORK/WILD BOAR SHOULDER
Makes 8 Servings
WINE PAIRING
Pinot Gris from Alsace or Ploussard from Jura
This mild, sweet braising preparation favors the rich flavor of Wild Boar or Kurobuta Pork. We've paired it with some heirloom fingerling potatoes and Brussels sprouts sautéed with pancetta.
DIRECTIONS
1
Brine the shoulder overnight.
2
When ready to cook, pat the meat dry and trim off any silver skin or excess fat.

3
Preheat your oven to 325°F.
4
In a large pot or Dutch oven over medium-medium low heat, render the pancetta. Sauté until most of the fat has melted off the pancetta into the pan, and you're left with chunks that are beginning to crisp but aren't hard.
5
Remove and reserve the pancetta. Add the shoulder, turn the heat up to medium-medium high, and sear the shoulder on all sides.

6
Remove and reserve the shoulder. Add the pancetta, apples, garlic, thyme, and onion. Reduce the heat and sweat for a few minutes, scraping the bottom of the pan to release the fond.
7
Deglaze with the cider. Cook until you can no longer smell any alcohol.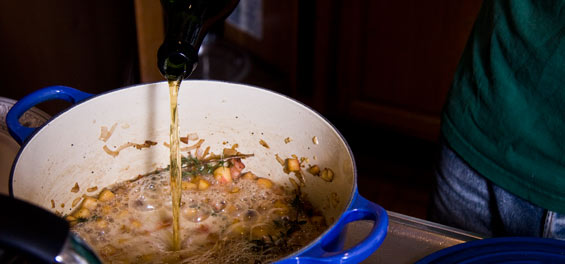 8
Return the shoulder to the pan and add the chicken stock.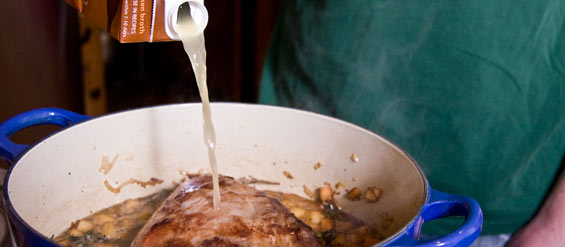 9
Cover the pot and bring to a simmer.
10
Move the pot to the oven and braise until tender (around 1 1/2 to 2 hours).
12
Make Brussels sprouts. Slice the bacon into batonnets (small sticks) and render out the fat in a large pan over medium heat. Remove the bacon from the pan once it has become crispy and reserve for a garnish, leaving the bacon fat in the pan. Add butter to the rendered fat and sauté the sprouts with a pinch of salt. Turn them as they caramelize to brown evenly on all sides. When they are finished remove them from the heat, season with salt and pepper to taste, and sprinkle in bacon bits.

13
To serve: ladle the apple/pancetta/braising liquid on a platter. Set the shoulder on top. Serve family style with the Brussels sprouts and fingerling potatoes.