What's a gougere?  They're essentially savory (frequently flavored with gruyere) pastry puffs (the same kind of dough, pate a choux, used in cream puffs & éclairs).  Even without the truffles, they're an elegant, absolutely delicious canapé/hors d'oeuvre.  With the truffles (especially Albas), they become a legendary treat that guests will never forget.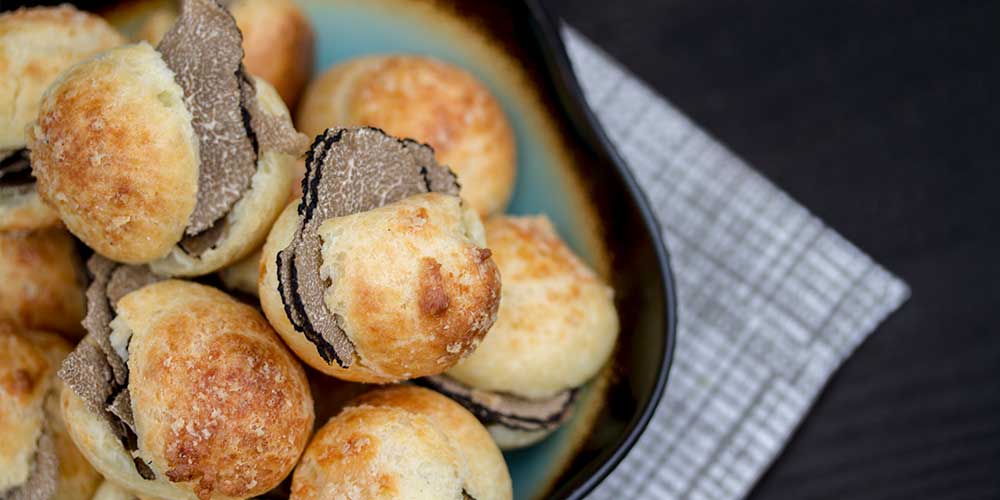 INGREDIENTS
Fresh Truffle (variety & amount depends on your budget)

1 cup Milk

3 Large Eggs

¼ tsp Fine Sea Salt

1 cup All Purpose Flour

½ cup grated Parmigiano Reggiano Cheese
1 ½ cups grated Gruyere or Emmentaler Cheese

4 tbsp Unsalted Butter

Coarse Sea Salt
DIRECTIONS
1
Preheat your oven to 375˚F.
2
Combine the milk, fine salt and butter in a medium saucepan.
3
Bring the mixture to a boil, then immediately remove the pan from the heat.
4
Add the flour all at once, then mix vigorously with a wooden spoon.
5
When the mixture begins to pull away from the sides of the pan and form a ball, return it to the heat.  Cook over medium heat, stirring occasionally, for a minute.
6
Transfer the dough to a food processor & let it sit for five minutes.
7
Run the processor for about five seconds to distribute the dough.  Add the eggs and process for 10-15 seconds to mix them in.
8
Transfer the dough to a bowl and let it cool for ten minutes.
9
Cover a baking sheet with parchment paper or a silicon baking sheet.
10
Stir all but 1 tbsp of the parmesan and all of the gruyere into the dough, just until combined.
11
Use a piping bag or tablespoon to make individual mounds of dough, each 2" away from the others.
12
Sprinkle each gougere with some of the reserved parmesan and some coarse sea salt.
13
Bake the gougeres until they're browned and crisp, about 20-30 minutes.
14
Remove the gougeres from the oven and cut them into halves (like buns) to let the steam escape.  Let them cool until they're lukewarm.
15
Shave the truffles and insert them into the gougeres. Serve.