Makes 20 Servings
WINE PAIRING
Banyuls
Adorable bite-sized cream puffs packed with creamy, nutty goodness. Perfect for parties & easier than they look!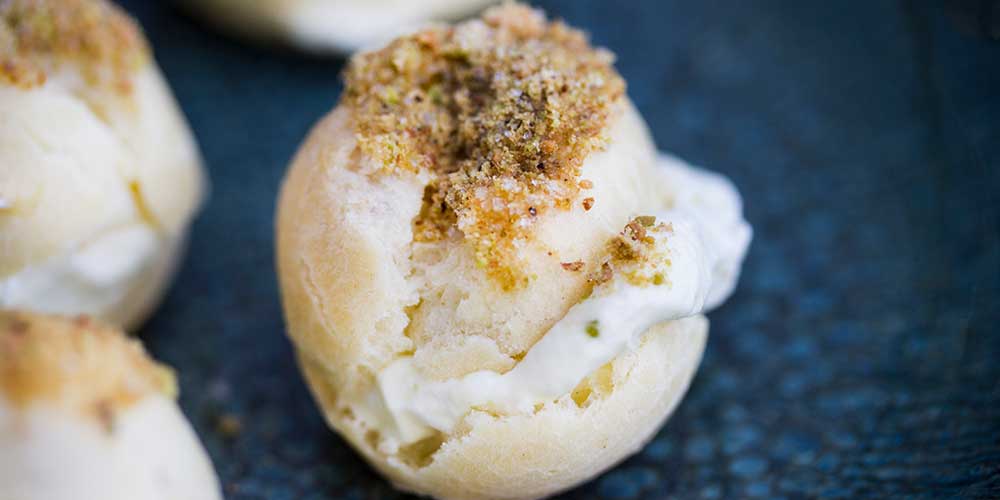 INGREDIENTS
Pate a Choux (Dough)

1 cup Unsalted Butter, cut into small pieces

1 tsp Sugar

½ tsp Salt

1 cup Water or Milk

1 ¼ cup All Purpose Flour

4 Eggs
¼ cup Shelled Pistachios

1 tbsp Sugar

1 tbsp Butter
DIRECTIONS
1
Preheat your oven to 325°F.
2
Cover a baking pan/cookie sheet with a silicon baking sheet or a sheet of parchment paper.
3
Put the butter, sugar, salt & water (or milk) in a small saucepan. Heat over high heat, just until the butter melts.
4
Remove the pot from the heat, add all the flour at once, and mix vigorously until a dough forms and pulls away from the pan.
5
Return the pan to the stove. Cook over medium-low heat for 2-3 minutes, until the dough dries and just starts to cling to the pan.
6
Move the dough to a stand mixer with a paddle attachment. Mix quickly to beat some of the heat & steam out of the dough (about 1 minute).
7
Add the eggs, one at a time, beating each into the dough until incorporated before adding the next. The dough should be stiff, but sticky.
8
Put the dough into a piping bag (you could also use a zip-top bag and clip one corner off).
9
Pipe the dough into uniform round blobs equally spaced across the parchment paper (give them ½"-3/4" of space between them).
10
Optional: Wet your finger and tap down any points at the top of your blobs for more uniform shapes.
11
Move the baking pan to the oven to bake. Bake for 45 minutes. The cream puffs will remain relatively pale when baked, but should be dry in the middle.
12
While the cream puffs are baking, toast the pistachios in the oven for 8-10 minutes, checking & shaking them periodically.
Make the Pistachio Powder Topping:
13
Grind the pistachios and tablespoon of sugar in a spice grinder or clean coffee grinder until they form a fine powder.
Make the Pistachio Cream Filling:
14
Whip the cream to soft peaks. In a small bowl, mix 1/3rd cup of the whipped cream into the pistachio cream, just to lighten it. Then add the salt and the remaining whipped cream and gently fold it in.
15
Load the filling into a pastry bag (or a zip top bag with the corner clipped).
16
Cut the cooled cream puffs open like a hotdog bun (leaving the halves barely attached on one side) and pipe in the pistachio cream filling.
17
Melt the tablespoon of butter for the topping. Brush each cream puff with melted butter.
18
Dip each buttered cream puff into the pistachio powder. Serve.
19
Store any leftover pistachio powder in the fridge until you need it.