The crisp texture of geoduck siphon meat gives this ceviche a very different texture from other clam ceviches. A lot of the flavor in this dish comes from the buttery, creamy avocado and layered, complex floral-citrusy yuzu juice.
You could substitute lemon juice for all of the yuzu juice, trading the layered effect for a brighter, more citrusy bite.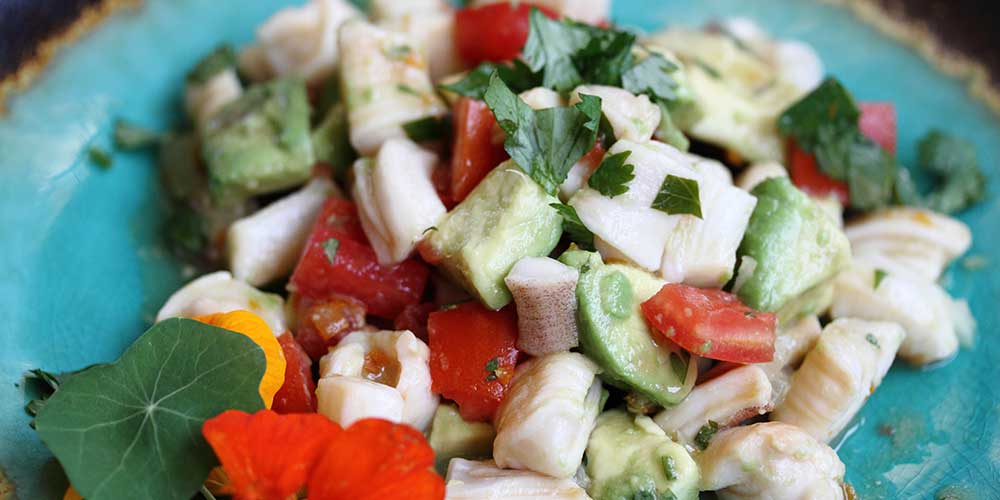 DIRECTIONS
1
Bring a small pot of water to a boil. Cut an x into the bottom of the whole roma tomato. Blanch the tomato in the water briefly (approx. 10 seconds), then rinse with cold water and peel the skin away. Core & finely chop the tomato.
2
Gently mix the geoduck siphon meat with the yuzu juice, lemon juice, peeled & finely chopped roma tomato, aji amarillo, onion and cilantro.
3
Move the mixture to the fridge to marinate overnight.
4
Remove the ceviche from the fridge. Deseed the extra half of roma tomato and roughly chop it & the avocado. Stir the tomato & avocado into the ceviche mixture & serve.