French-Style Scrambled Eggs w/ Wild Ramps
WINE PAIRING
Gruner Veltliner Wine
The garlic-leek flavor of wild ramps is perfectly suited to egg dishes. In this recipe, the eggs are cooked slowly over lower heat, while stirring constantly, to give them a softer, creamier texture.
Ramps are also very tasty in American-style scrambled eggs, if you prefer that texture.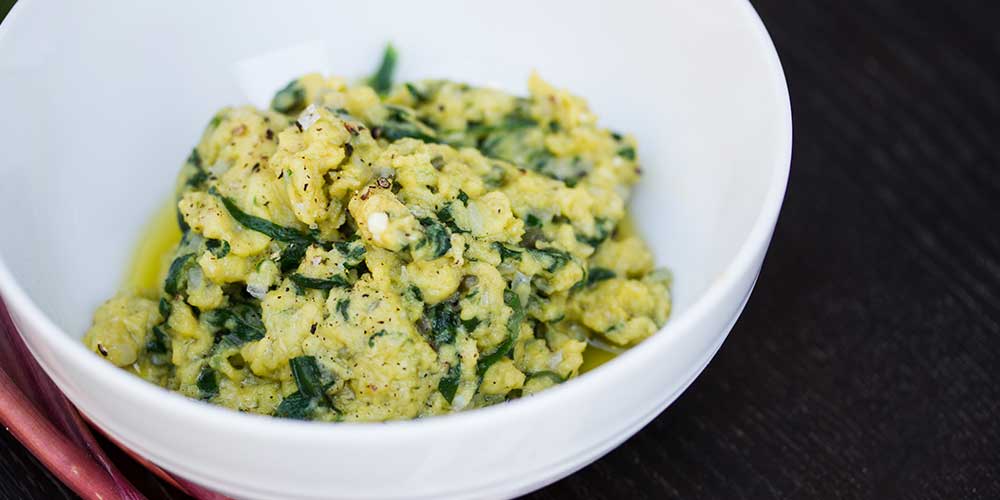 INGREDIENTS
2 tbsp Unsalted Butter

1 large Wild Ramp
2 pinches Truffle Salt (could substitute plain salt)

1 tbsp Half & Half or Cream

2 large Eggs

Black Pepper
DIRECTIONS
2
Separate the ramp bulb from the greens. Thinly slice the ramp bulb. Cut the ramp greens chiffonade (into thin strips).
3
Melt the butter in a frying pan.
4
Beat the eggs together with the cream (or half & half).
5
Add the sliced ramp bulb & truffle salt. Sweat over low heat until softened.
6
Add the ramp top, and cook for about a minute, until wilted.
7
Remove the pan from the heat, then add the eggs.
8
Return the pan to low heat. Stir the eggs in small circles constantly until they've cooked to a custard-y consistency with small lumps. Serve.