WINE PAIRING
Chablis or Bonarda from Argentina
Here we're using ramps (wild leeks) in place of both the herbs and the garlic in pesto. It's gorgeous, it's got a really strong (delicious!) ramp flavor, but it doesn't have much bite or spice because the ramps' zing smoothes into the oil & cheese's richness.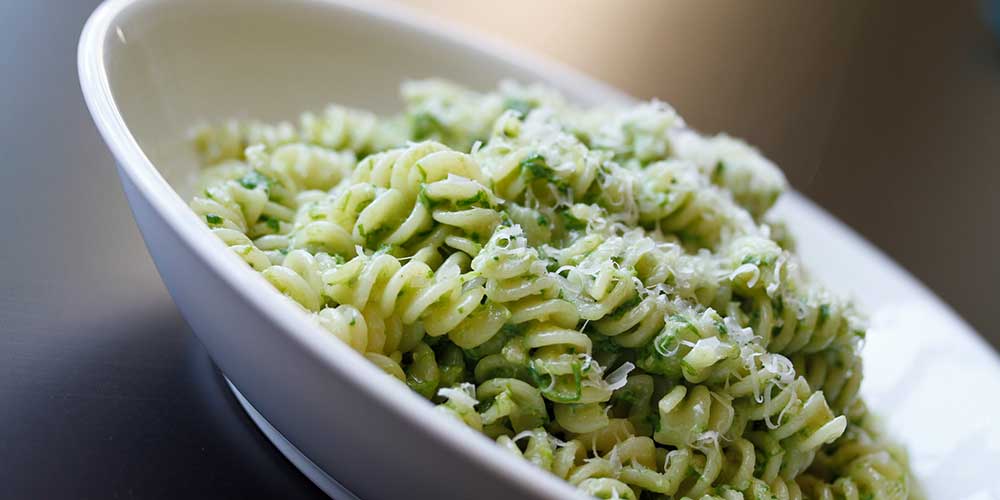 INGREDIENTS
1lb of Fresh Ramps, Cleaned (How to Clean Ramps)

1/4lb of Pine Nuts

1 tsp Salt

1 tsp Lemon Juice, freshly squeezed

¼ cup Olive Oil

Black Pepper to taste
DIRECTIONS
1
Bring a pot of salted water to a
boil
. Get an ice bath ready in a large bowl.
2
Add the ramps and blanch them for only 20 seconds.
3
Immediately move the ramps to the ice bath and swirl them to stop the cooking process.
4
Shake the water off the ramps. Roughly chop them and add them to a food processor along with the pine nuts, salt, cheese, black pepper and olive oil.
5
Run the food processor until the ingredients combine into a pesto.
6
Serve with pasta or on bruchetta (perhaps topped with cheese and/or bread crumbs & briefly broiled).