Wild Mushroom Veal Marsala
Makes 4 Servings
WINE PAIRING
Nebbiolo
Veal marsala is a classic for a reason.  This rich, earthy, umami-rich dish of veal in a thick marsala wine & mushroom gravy is comforting & delicious.  The granulated gelatin is a secret ingredient used to give the sauce more body & mouth feel.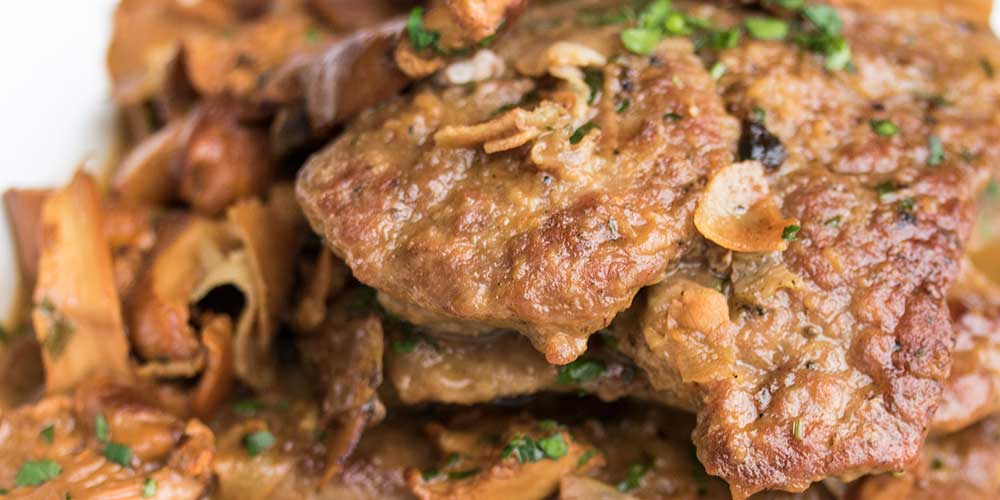 INGREDIENTS
Four 5oz Veal Cutlets
1/2oz Dried Porcini Mushrooms

1 clove Garlic, minced

1 tbsp Tomato Paste

2 tbsp Shallot Oil

1 1/2oz Pancetta, medium diced

½ cup All Purpose Flour

2 tbsp chopped Italian Parsley

4 tbsp Unsalted Butter

1 tsp Lemon Zest

1 tsp Lemon Juice
Marsala Sauce:

1 ½ cups Marsala Wine + extra to finish

1 cup Chicken Stock (lowest sodium possible)

½ tsp Granulated Gelatin

Porcini Rehydrating Liquid
DIRECTIONS
2
Clean the chanterelles & tear them into bite sized pieces.
3
Combine the marsala and gelatin in a pot. Bring the mixture to a simmer and simmer until reduced by half.
4
Add the chicken stock to the marsala mixture and continue to simmer until that liquid has reduced by half.
5
Once the marsala liquid has again reduced, add the porcini rehydrating liquid and continue to reduce until the total volume of liquid is 1 ½ cups.
6
Season the cutlets with salt & pepper, then dredge them in all-purpose flour until lightly coated.
7
Sear the cutlets in a skillet oiled with the shallot oil over medium-high heat, until the bottoms brown. Flip and continue to cook for 10 seconds, then remove the cutlets from the pan.
8
Add the pancetta to the remaining fat and cook until it has rendered and lightly crisped. Add it to the plate with the seared veal cutlets.
9
Caramelize the mushroom pieces (the porcinis & chanterelles) in the pancetta fat, then add the garlic & the tomato paste.
10
Continue to cook, stirring, until the tomato paste has browned.
11
Add any juices that have accumulated on the veal plate to the marsala sauce.
12
Pour the marsala sauce over the mushrooms in the skillet. Add the parsley & butter.
13
Bring the marsala-mushroom mixture to a simmer and stir.
14
Add the veal and simmer for 20+ minutes (longer if you want it more done).
15
Stir in the lemon juice & zest along with a splash of additional marsala wine.