Wild Boar Meatballs w/ Juniper Tomato Sauce
Tender, boldly flavorful wild boar meatballs in a tomato sauce seasoned with juniper berries. This is our second wild boar meatballs recipe. You can find the other one here.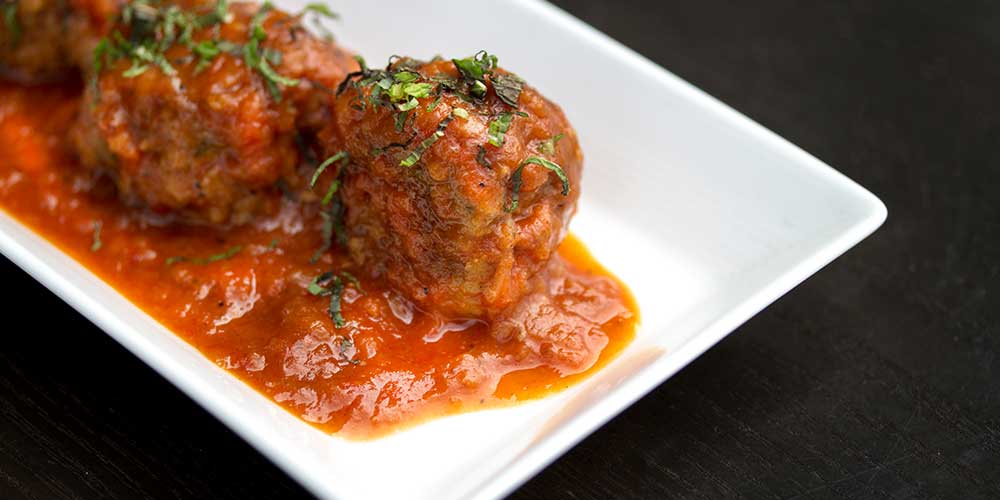 INGREDIENTS
Meatballs:
1lb Ground Wild Boar

1 Egg, beaten

½ cup Panko Bread Crumbs

1 tbsp chopped Fresh Mint Leaves

1 tbsp Mayonnaise

1 tsp Smoked Salt
Sauce:

2 tbsp Extra Virgin Olive Oil

1 Onion, small diced

1 tsp Whole Juniper Berries

1 tsp Alaska Flake Smoked Salt (could substitute other smoked salt)

½ cup White Wine

1 cup really rich Pork or Beef Stock (or combine ¼ cup beef or veal demi glace with ¾ cup water)

1 cup Tomato Puree

¼ cup Heavy Cream

Salt
Pasta of your choice
DIRECTIONS
1
Grind a teaspoon of the smoked salt and the juniper berries together in a spice grinder or clean coffee grinder (
how to grind whole spices
).
2
Oil a large pan or cast iron skillet with two tbsp. of extra virgin olive oil.  Add the onion and a pinch of salt.  Saute.  After about ten minutes (when the onions have started to brown), deglaze the pan with the white wine & simmer until almost all the liquid has evaporated.
3
Add the stock, tomato puree, and ground spice mixture.  Simmer for ten minutes.
4
Puree the sauce in a blender, then return it to the pan to be reheated when the meatballs are ready.
5
In a large bowl combine the ground wild boar, egg, mint, panko bread crumbs, the other teaspoon of smoked salt.
6
Very gently mix the contents of the bowl.
7
Very gently form the mixture into golf ball sized meatballs.
8
Sear the meatballs on all sides in a hot oiled skillet.
9
Once the meatballs are browned, transfer them to the pureed sauce, with a little bit of the fat from the pan.
10
Stir the cream into the sauce and bring it to a simmer.  Simmer for ten minutes to finish cooking the meatballs.