Wild Boar Masala Curry with Pickled Green Mango
Makes 4 Servings
WINE PAIRING
Viognier
Wild boar neck is a delicious braising cut that should not be overlooked. Here we've used it in a curry that's addictively savory & complex with just enough creaminess from the cashews and sweetness from the tomatoes. A semi-ripe mango pickle cuts the richness beautifully.
The mango pickles take about an hour to make (though very little effort), but they can be made up to a week ahead to save you time on the day you make the curry.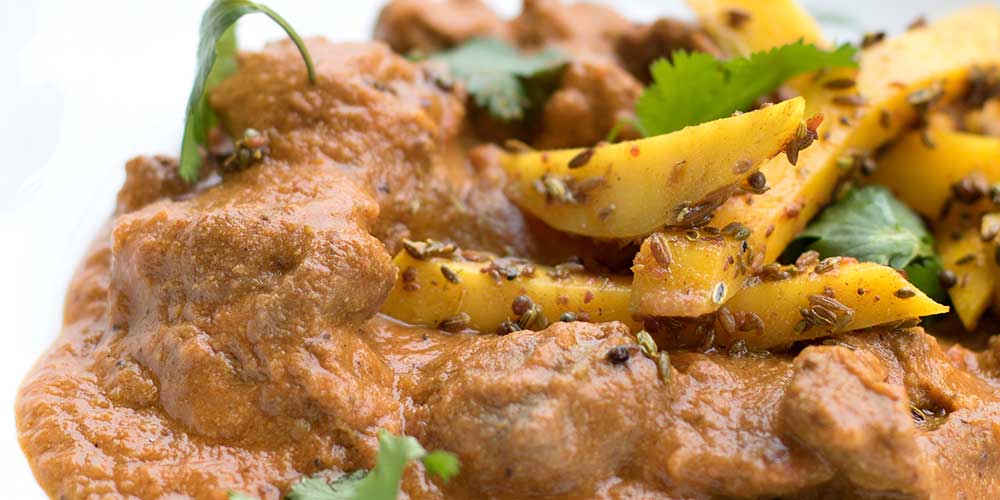 INGREDIENTS
Spice Blend:

1 tbsp Coriander Seeds

2 tsp Cumin Seeds

6 Cardamom Pods

1 Cinnamon Stick, broken up

1 tbsp Smoked Salt
Mango Pickle:

2 Green Mangoes (semi-ripe, not rock hard)

3 tbsp Coconut Oil

1 tsp Ground Fennel

1 tsp Ground Cumin

1 tsp Ground Aleppo Pepper

1 tsp Brown Mustard Seeds

1 tsp Ground Turmeric

1 tbsp Salt
Recommended Side:
Basmati Rice
DIRECTIONS
1
Peel & cut the mangos into match sticks (batonnet). Toss them with the kosher salt and let them sit in a colander over a bowl for an hour.
2
Discard the water that accumulated beneath the mango slices. Melt the 3 tablespoons of coconut oil in a skillet and add the spices. Toast the spice mixture until it's fragrant (about a minute).
Toss the mango in the spice mixture & refrigerate the finished pickles.
3
Season the cubed neck meat with salt & pepper. Add it to a hot, oiled frying pan or skillet and sear it on all sides until browned. Move the neck meat to a deep pot.
4
Grind together the spice mix ingredients in a spice grinder or clean bladed coffee grinder.
5
In a separate pan, melt the coconut oil and add the shallot.
Sweat
the shallot until it turns translucent, then add the spice blend.  Toast the spices in the coconut oil until aromatic (30 seconds to 1 minute).
6
Combine in a blender the tomatoes, chicken stock, and cashew cream. Blend until smooth.
7
Add the tomato and shallot mixtures, with the turmeric, to the wild boar in the pot. Simmer until the wild boar is tender (approx. 1 hour & 30 minutes).
8
Tear the top portions off the bunch of cilantro and chop them. Stir them into the curry.
9
Serve with the mango pickles, basmati rice and/or your choice of other sides.