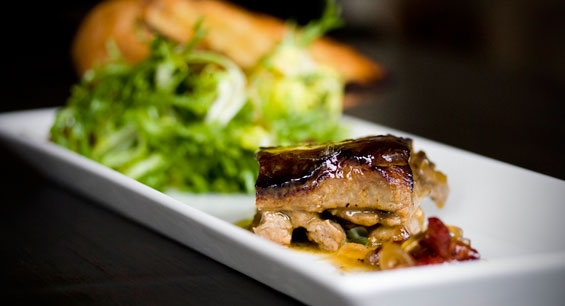 Wild Boar Belly & Bright Salad
Even though it's leaner than pork belly, wild boar belly has a richer, more complex flavor, especially when braised. Pairing it with an acidic frisee salad balances that richness for a not-too-filling and and oh-so-satisfying dish. Any type of pork can be substituted for the wild boar in this recipe.
Drink Pairings: Alsatian Riesling or Australian Semillon
Ingredients: (Serves 4)
8 oz Braised Wild Boar Belly with reserved braising liquid
1 large Shallot, sliced thin
3 oz Pancetta, sliced into sticks/batons
1 tbsp Champagne Vinegar
2 tbsp Honey
1 tbsp of Extra Virgin Olive Oil
½ Baguette
1 clove of Garlic, cut in half
2 heads of Frisee
Sea salt & pepper to taste
Directions:

1. In a pan over medium low heat, render the pancetta (saute until the pancetta is crispy and the fat has been released).
2. Reserve the pancetta, and add the sliced shallot to the fat in the pan. Sauté until the shallot is slightly browned.
3. Add the honey and let it cook for about three minutes. Remove the pan from the heat.

4. Return the pancetta to the pan, and stir in the vinegar and extra virgin olive oil. Taste and add more oil/vinegar/salt/pepper if necessary. This is your vinaigrette.

5. Thickly slice the baguette, and rub each slice with the clove of garlic and some olive oil.

6. Grill the baguette slices.

7. Cut the ends of the frisee, separate it into bunches. Put in a bowl with salt and a little olive oil. Toss to coat.

8. Cut the boar belly into 2oz pieces. Put it in a pan with a small amount of the braising liquid. Simmer to reheat it and reduce the liquid to a glaze.

9. Plate the belly with the frisee and baguette. Sauce both the belly and the frisee with the vinaigrette. Serve.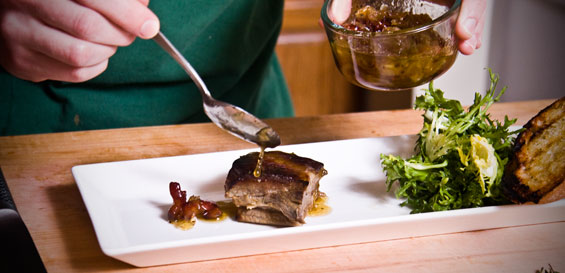 ___________
Browse More:
Wild Boar Recipes
Pork & Wild Boar Belly Recipes