Makes 6 Servings
WINE PAIRING
Aged White Burgundy Chardonnay
As decadent as food gets, this risotto showcases the complex flavors of parmigiano reggiano cheese and incredible earthy white alba truffles (some of the finest truffles in the world). Whipped heavy cream adds richness while making the finished risotto luxuriously thick. Let's just say that when this came off the stove we took a break and ate in silence…as if praying to the food gods.
We already have a great post explaining the basic risotto method, but we thought that this warranted its own recipe since it literally made four experienced palates swoon.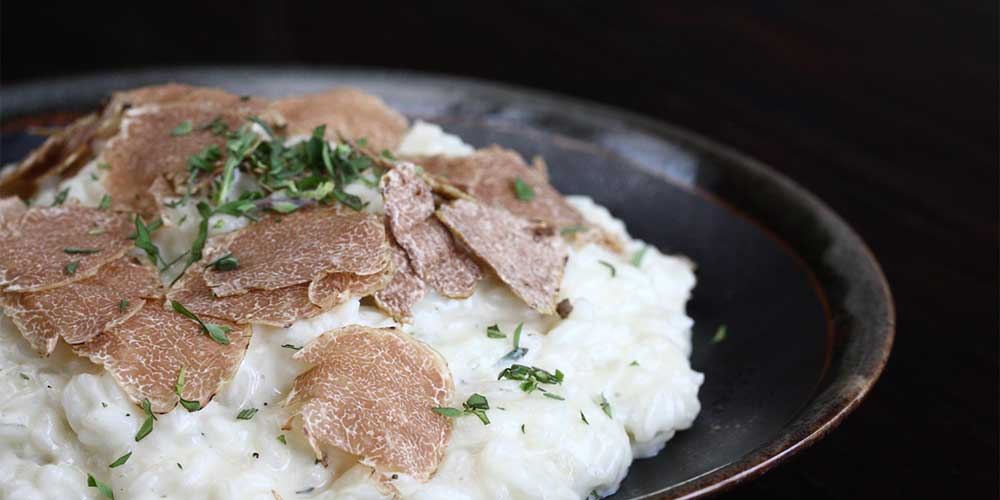 DIRECTIONS
1
Whip the cream to firm peaks and store it in the fridge, covered.


2
Heat a pan with the olive oil at medium to medium-low heat.
3
Add the onion and sweat, stirring occasionally until it is soft and translucent (see photo). The heat in the pan should not be high enough to color the onion.
4
In a separate pot, heat the stock until hot but not simmering or boiling.
5
Add the carnaroli rice, and stir it frequently until it begins to shine and is slightly translucent. You should smell some nuttiness coming off the pan when it's ready.


6
Deglaze the pan with the white wine and simmer to absorb it into the rice.
7
Slowly begin to add the hot stock (about 6oz at a time), letting each portion of stock be absorbed into the rice before adding more. Stir occasionally to prevent sticking and help draw the starch out of the rice.


8
Finely grate the parmigiano reggiano.
9
Continue to
simmer
the rice, adding stock and stirring, until the rice is tender. Remove the risotto from the heat, and take the whipped cream out of your fridge so it can start coming to room temperature.
10
Stir in the butter, oregano and grated parmesan. Taste for seasoning, and add additional salt as needed (you want it to be a little on the salty side, as the whipped cream will mellow out the salt).
11
Just before serving, very gently fold in the whipped cream, using cutting and light folding motions. Taste for seasoning again, and add more salt if needed.


12
Shave white alba truffles as thinly as possible over the risotto. Garnish with additional chopped oregano if desired. Serve immediately.