Venison Medallions w/ Huckleberry Gastrique
Makes 4 Servings
WINE PAIRING
Zinfandel
Venison medallions are a great way to try cooking deer meat for the first time – they're tender, delicious and easy to prepare.
Here we've paired them with sweet potato puree and a sweet, tart, fruity & musky wild huckleberry gastrique.Gastrique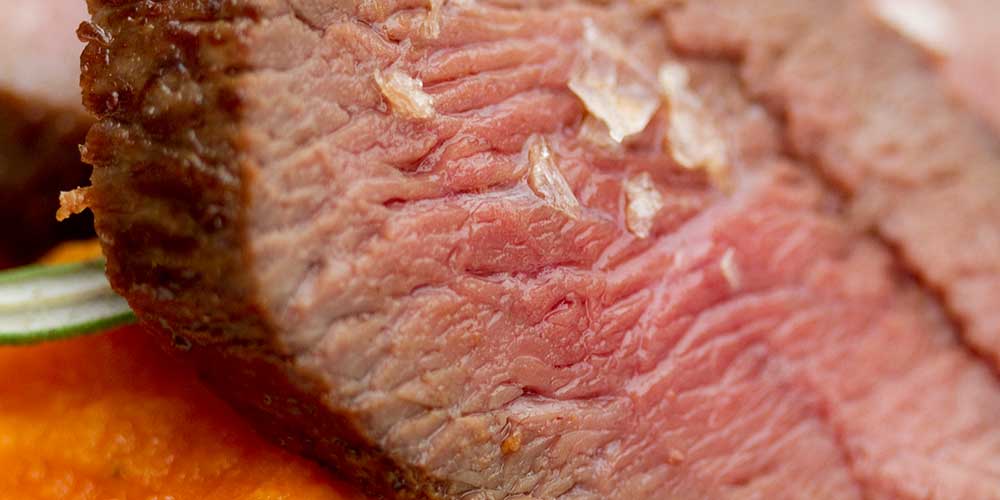 INGREDIENTS
1 tbsp of Unsalted Butter

2 tbsp High Heat Oil (grape seed, safflower, etc)

1 Fresh Rosemary Sprig

1 tsp Dry Vermouth (we used Dolin)
Gastrique Sauce:

2 tsp Granulated Sugar

1/4 cup Huckleberry Syrup

1/4 cup Champagne Vinegar

1/4 cup Chicken Stock

Sea Salt & Black Pepper to Taste
DIRECTIONS
1
At least a half hour to 45 minutes before cooking, season the venison with salt & pepper on all sides.
2
In a small saucepan combine the huckleberry syrup, sugar, champagne vinegar and chicken stock. Bring the mixture to a boil, then reduce the heat to a simmer. Simmer to reduce the sauce until it is thick enough to coat the back of a spoon.
3
Puree the huckleberry sauce using a blender & press it through a sieve to ensure a smooth consistency.
If it gets a little too thick, you can thin it by adding a little water.
4
Get the oil hot in a large frying pan or cast iron skillet over high heat.
5
Dry off any surface moisture from the medallions.
6
Add the medallions to the pan and sear them on both sides. Turn the heat down and continue to cook them until they reach medium-rare (125-130 degrees on a meat thermometer).
If your medallions are particularly thick, you can move them to a 350˚F oven to finish cooking after you sear the outside.
As each piece reaches temperature, remove it from the pan and lightly cover it with aluminum foil.
7
Use a paper towel held with tongs to remove the excess oil from the pan.
8
Reduce the heat to medium low. Return the medallions and any collected juices from the resting plate to the pan. Add the butter, vermouth and rosemary sprig.
9
As the butter melts, tilt the pan and spoon the flavored butter over the medallions. Cook just long enough to glaze them with the butter.
10
Move the medallions back to the resting plate. Pour any remaining butter in the pan over them. Discard the rosemary sprig.
11
Let the medallions rest at least 5 minutes (ideally 8-10 minutes) before slicing against the grain.
12
Take the butter & juices that have collected on the venison resting plate and add them to the gastrique sauce.
13
Serve the sliced venison medallions atop the sweet potato puree and sauce. Sprinkle a few grains of smoked flake salt on top of the venison. Serve.