Rosemary Sweet Potato Puree
Rich, buttery, smooth and sweet with rosemary and a little bit of kick, this orange puree is a starch side dish to be served as you would mashed potatoes. It's particularly good paired with game meats that work well with sweet flavors, like venison, elk and wild boar.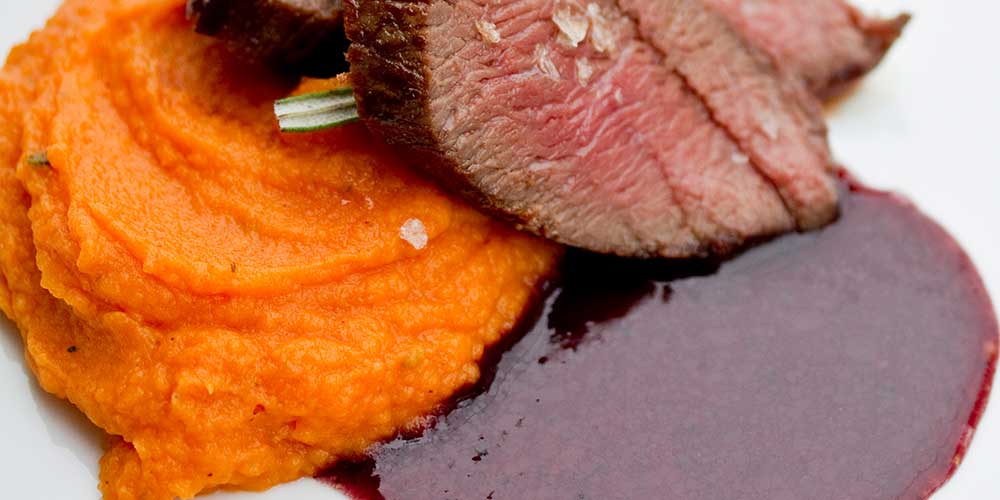 INGREDIENTS
Three Large Sweet Potatoes

1 tbsp Kosher Salt

2 tsp Fresh Rosemary, minced

1 stick unsalted Butter

1 tbsp Sea Salt

2 tsp Red Fresno Pepper Sauce
DIRECTIONS
1
Peel the sweet potatoes and cut them into large cubes. Put them in a large pot with the salt and water to cover. Bring to a simmer and cook until knife tender (approx. 20 minutes), then drain off the water.
2
While the sweet potatoes are cooking, melt the butter in a separate saucepan. Add the rosemary and cook until the butter browns and smells nutty.
3
Mix the browned butter, pepper sauce and sea salt with the cubed sweet potatoes. Puree the mixture with a blender, stick blender or food processor.
4
Serve immediately or store in the refrigerator for later. Reheat the puree in a frying pan on the stove when you're ready to serve it.