Venison Crostini with Cauliflower Puree, Black Trumpet Mushroom & Preserved Lemon Gremolata
Makes 6 Appetizers or 4 Light Lunches
Rich, tender venison atop creamy cauliflower puree offset with an earthy, umami-packed gremolata. You can make the components ahead of time for a delightful cold lunch (picnics!) or party food, or cook the tenderloin right before serving.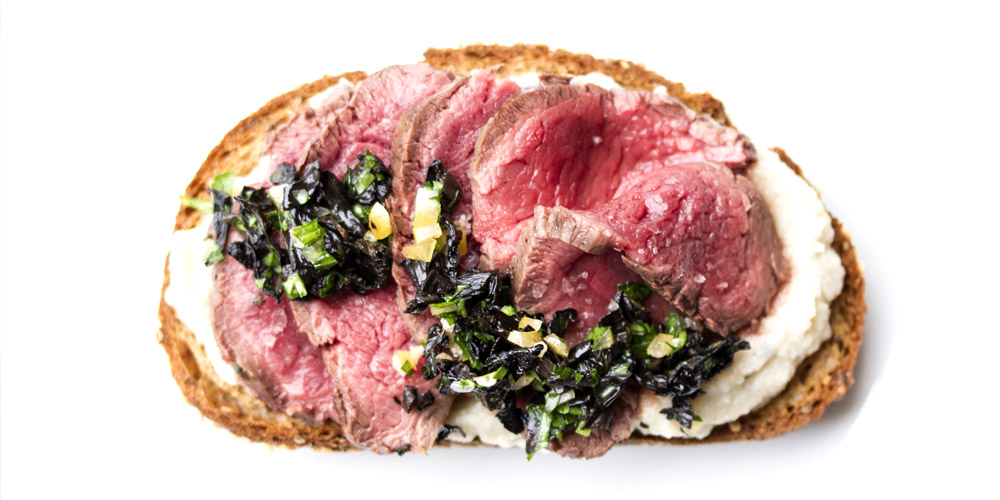 INGREDIENTS
1 head Cauliflower

1/2 tsp Salt

1 Tbsp Neutral High Heat Cooking Oil (Canola, Safflower or Grapeseed)

1 Tbsp Unsalted Butter

1 tsp Black Peppercorns

1 tsp Salt

1 Seedy or Rye Loaf
Gremolata
1 ounce Dried Black Trumpet Mushrooms

6 cups Hot Water

2 Tbsp minced Preserved Lemon

3 Tbsp minced Flat Leaf Parsley

1 Tbsp Neutral High Heat Cooking Oil

1 Tbsp Fine Extra Virgin Olive Oil
DIRECTIONS
1
Preheat your oven to 350°F.
2
Break up the head of cauliflower into medium pieces, and place them in a small- to medium-sized saucepot.
4
Once the water has cooled a bit, lift the mushrooms out of the water and carefully pour this first-round rehydrating liquid into the saucepot of cauliflower, leaving behind the last cup of liquid (and all the sediment in it).
5
Add water, if necessary, to cover the cauliflower by about an inch. Place on medium-high heat, and simmer until the cauliflower is tender, but not falling apart.
6
Rinse the black trumpet mushrooms in one more change of warm water, which you can discard or reserve for another use, and dry them out on a clean dish towel. Heat 1 tbsp of high heat oil in a large skillet, and when it's quite hot, add the mushrooms. Sprinkle them with 1 tsp of salt, and give them one stir to distribute the oil, then leave them alone to caramelize. You'll know they're getting close when most of their moisture has evaporated and they become aromatic. Set them aside to cool.
7
Grind the salt and pepper in a clean coffee or spice grinder, and rub the blend evenly over the venison loin.
8
Heat the remaining 1 tbsp of oil in an ovenproof pan. When hot, sear the meat on both sides, turning occasionally, until well browned.
9
Put the pan in the oven and check after 7 minutes, temping it with a digital thermometer. Remove it from the oven as soon as it reaches an internal temperature of 130°F, tent it with foil, and let rest 10-15 minutes.
10
To make the gremolata, chop the sautéed black trumpet mushrooms. Mix in the minced preserved lemon, minced parsley, and olive oil, stirring to incorporate. Taste, and add pepper and salt only if needed (most preserved lemons will be quite salty).
11
To make the cauliflower puree, transfer the tender cauliflower pieces to a food processor and add 1 tbsp butter. Blend, adding some liquid left in the pot 1-2 tbsp at a time, to create a smooth puree. Add salt and pepper to taste.
12
Slice the seedy bread or pumpernickel thinly, and toast lightly on a grill or in a toaster oven.
13
Spread each piece of toast with the cauliflower puree. Slice the venison thinly, and lay strips atop the puree. Top each with a heaping teaspoon of the black trumpet and preserved lemon gremolata.