Vanilla Pot au Crème with Shagbark Syrup
Makes 6 Servings
WINE PAIRING
Muscat
Creamy, fruity, floral Tahitian vanilla custard topped with shagbark syrup, which has an earthy, honeyed flavor. This dessert is both delicate and complex.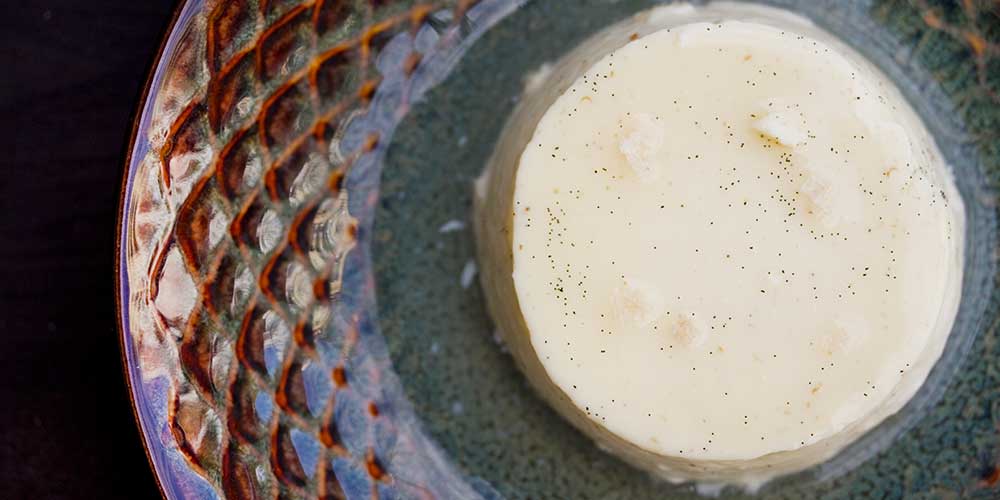 DIRECTIONS
1
Preheat your oven to 300 degrees.
2
Put the ramekins in a casserole dish.
4
Combine the milk, cream, vanilla pod and vanilla seeds in a small saucepan.
5
Bring the mixture to a
boil
, then remove the pan from the heat. Cover the pan, and let the vanilla infuse for 15 minutes.
6
Crack the eggs into a separate bowl, add the sugar & whisk to combine until the sugar is mostly dissolved.
Temper the eggs into the cream:
8
While whisking, pour a little of the cream mixture at a time into the eggs to slowly bring them to temperature.
9
Once the eggs and cream are completely combined, put them in a pitcher and pour them into the ramekins. Be sure not to leave the vanilla seeds behind in the pitcher!
10
Pour hot water into the casserole around the ramekins – halfway up the sides. Cover the pan with aluminum foil & move it to the oven.
11
Bake until the custards have set, but are still jiggly (about 45 minutes).
12
Take the ramekins out of the water bath and move them to the refrigerator to chill.
13
When you're ready to serve your pot au creme – run a knife around the inside of each ramekin and upend it onto your serving plates.
14
Drizzle each custard with 1 tbsp of the shagbark syrup.
15
Sprinkle a few flakes of smoked salt on top & serve.