Making vanilla scented sugar is simple, and doesn't use up your vanilla beans. Not only is vanilla sugar delicious, but it makes great gifts for the bakers and coffee drinkers in your life! Here's how to make it:
Ingredients:
2 Vanilla Beans (either tahitian vanilla beans or madascar vanilla beans will do)
2 cups of sugar
Step 1) Take 2 vanilla beans and 2 cups of sugar and place together in a pint-sized, airtight jar.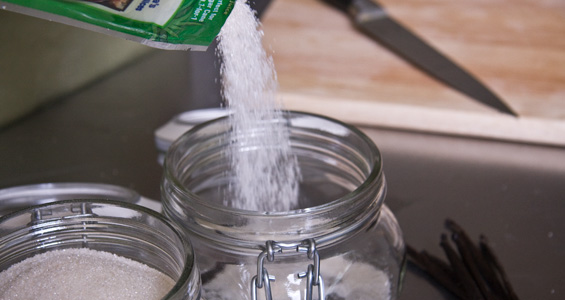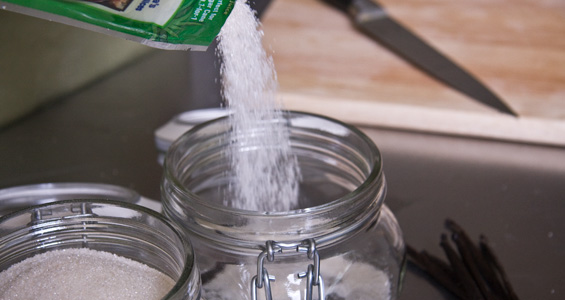 Step 2) Let sit for 3-4 weeks.
Step 3) Open the jar to check the progress. If its vanilla-y enough for you, remove bean and use it for something else. What you are left with is vanilla scented sugar.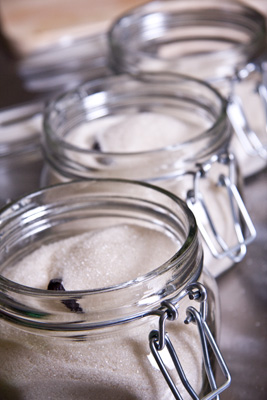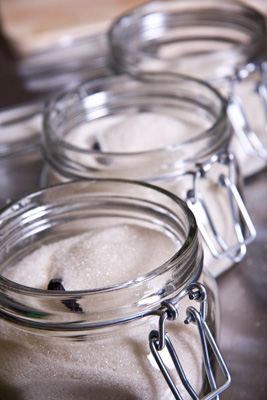 For More Potent Vanilla Scented Sugar:
Scrape the seeds out of each vanilla bean (read how to use a vanilla bean for instructions) and mix them into your sugar.  Put the sugar and outer vanilla pods in a pint-sized airtight jar for 3-4 weeks.
To Make Vanilla Flavored Sugar (similar to our professionally made vanilla sugar):
Grind dried-out vanilla beans with granulated sugar…you'll be able to use this sugar immediately, no waiting required!  See How to Make Flavored Sugars for the recipe & technique tips.
Note: Do not store vanilla beans in the refrigerator, they will dry out prematurely. Instead store them in a plastic bag or container in the pantry.
___________
Browse More:
Vanilla Recipes
Sweetener Recipes
Culinary Techniques