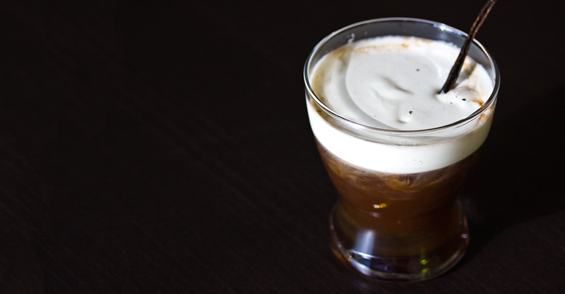 Vanilla-holic Irish Coffee
No need to wait for St. Patty's Day, you can enjoy this upgraded, vanilla-centric Irish Coffee year round.

2 premium vanilla beans—one for infusing the whiskey, and one for the whipped cream (I used Tahitian vanilla beans)
1 pint Irish whiskey infused with vanilla bean
4 teaspoons of demerara sugar
1 cup heavy whipping cream
4 cups of piping-hot, freshly brewed coffee—I prefer french press, but drip coffee also works
(Serves four)

To get started, a day or two prior to making the Irish coffee, infuse about a pint of good quality Irish whiskey.
To infuse: Place a vanilla bean down on a cutting board, and draw the point of a paring knife down the bean's center to split it in two. Scrape out the tiny vanilla seeds inside. At this point, you can reserve these for another dish, but I like an extra vanilla-y booze, so I scraped them out, and tossed them into the whiskey with the pods. I let mine infuse for two days. (For more tips on infusing, check out How to Make Vanilla Extract).
The fun part: whip that cream. Split open your second vanilla bean, and scrape out the seeds. The empty pod can then be placed into more booze, or used to make Vanilla-Scented Sugar. Is it a little overly decadent to use this much vanilla in one batch of drinks? Yes. Yes it is. Whisk the vanilla seeds with one cup of heavy cream and a tiny splash of your infused whiskey—just enough to keep the cream thin. Stop whipping when the cream is thick, but before any peaks form.
In the meantime, I like to have a french press of strong, dark roast coffee brewing. Pre-heat your mugs by filling them with scalding water. Once your cream is ready, dump the hot water from the mugs, and pour at least an ounce of whiskey (more, if you're Irish) and the demerara sugar into the hot mugs. Stir as you pour the coffee in.
According to our Irish sources, it's only a real Irish coffee if the cream is thin, and poured over the back of the spoon to keep it floating on the surface. Pour the cream slowly over the back of a spoon—3/4 of inch or so.


Inhale that intoxicating vanilla scent, and enjoy. Sláinte!

___________
Browse More:
Cocktail & Beverage Recipes
Vanilla Recipes
Sweetener Recipes