Truffled Beef Standing Rib Roast
Makes 8-10 Servings
WINE PAIRING
Brunello di Montalcino
Simple & classic, yet incredible.
We used Italian black summer truffles when developing this recipe, but it'd be even better with Perigord or Burgundy truffles.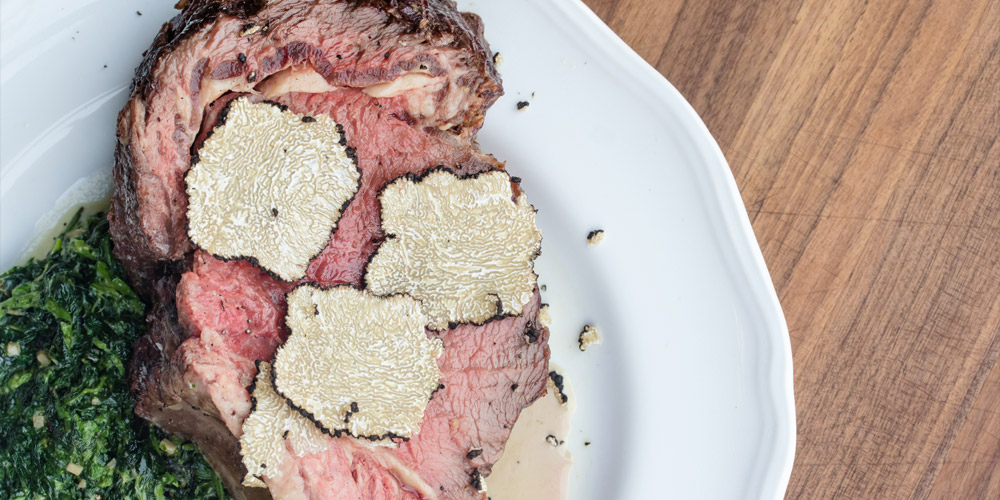 DIRECTIONS
1
Preheat your oven to 300°F.
2
Trim any silver skin off the surface of the roast (how to remove silverskin).
3
Generously season the roast with the salt & pepper.
4
Put the roast in a roasting pan (on a roasting rack or cooling rack), bone-side down. Roast the to an internal temperature of 120°F (2-2 1/2 hours). Start periodically checking the temperature after the first hour.
5
Take the roast & roasting pan out of the oven. Preheat the oven's broiler for about five minutes.
6
Return the roast (in the pan) to the oven and broil it until it caramelizes all over (about 5 minutes).
7
Rest the roast for 25-30 minutes, then slice between the bones into chops.
8
Serve the chops, liberally topped with paper thin slices of black truffle, with your choice of sides.