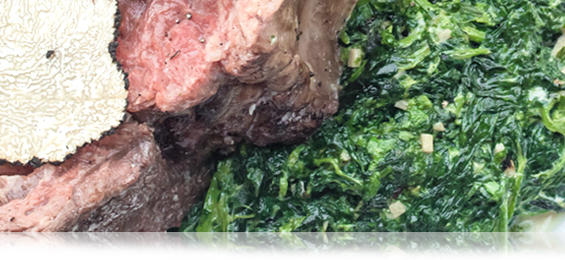 Truffle Creamed Spinach and/or Stinging Nettles
Proper creamed spinach is a wonderful thing…make it with nettles and you've got something even more special. Either way, adding fresh black truffles takes it over the top into fine dining territory.
We used Italian black summer truffles when developing this recipe (which are the most readily available variety during nettle season), but it'd be even better with Perigord or Burgundy truffles.
Ingredients:                          
4oz Fresh Spinach or Stinging Nettles
1 pint Heavy Cream
1 1/2oz Fresh Black Truffle, diced
Salt or Black Truffle Salt
Directions:
If using stinging nettles:

Carefully (use gloves!) blanch them in simmering water for five minutes. Scoop them out & move them to an ice water bath to stop the cooking process. Remove them from the water & squeeze the liquid out of them.

After the blanch, their stinging effect will have been removed. The blanching water is nettle tea/stock – it's very good for you & can be consumed/used now or frozen for later.

This can also be done months in advance during nettle season, with the blanched nettles being frozen for use later in the year.

If using spinach:

Wash the spinach thoroughly in a sink full of water to remove any dirt & grit. Remove from the water & use a salad spinner to get as much water off of the leaves as possible.

Combine the cream and diced black truffle in a small saucepot. Bring the cream to a simmer & cook for 30 minutes.
Put the nettles and/or spinach in a deep pot. Pour the truffle cream over them and stir until the greens wilt. Taste & add salt or truffle salt as necessary. Serve.

__________
Browse More:
Truffle Recipes
Nettle Recipes