Truffle Ravioli w/ Morel Cream Sauce
Makes 2 Servings
WINE PAIRING
Barbaresco, Nebbiolo or Pinot Wine
Morels and truffles in the same recipe? If you're a fan of these delicacies, pasta dishes don't get much better than this. This recipe is easy, but the results are luxurious – earthy, creamy & decadent.
If you don't have truffle ravioli, this sauce would work well with cheese-fillet pasta, other truffle flavored pasta or unflavored pastas like fettuccine.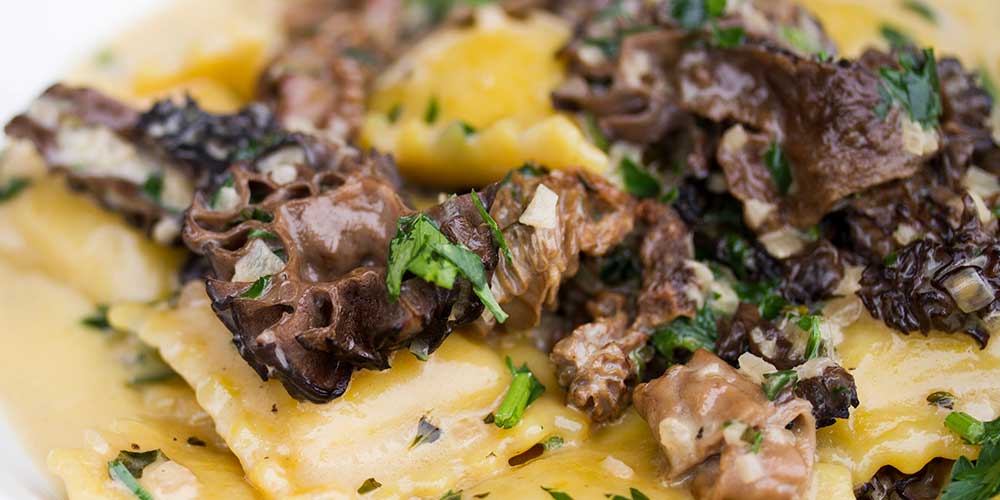 INGREDIENTS
9oz Truffle & Cream Ravioli (could substitute cheese ravioli, black truffle tagliolini, or unflavored pasta)

3/5oz (approx. 1 cup) Dried Morel Mushrooms

3 tbsp Unsalted Butter

¼ cup minced Shallot

1 tbsp chopped fresh Flat Leaf Parsley

1 tsp chopped Fresh Thyme

½ cup White Wine

½ cup Heavy Cream

5% Truffle Salt to taste (could substitute 10%)
DIRECTIONS
2
Strain the soaking liquid and reserve a cup.
3
Bring a large pot of salted water to a simmer on the stove.
4
Melt the butter in a large frying pan.
5
Add the shallots and truffle salt to the butter. Saute the shallots over medium-high heat until tender (2-3) minutes.
6
Chop the morels into rings. Add the morels and the thyme to the butter & shallot mixture.
7
Increase the heat to high and
sauté
the morels until they start to brown.
8
Cook the truffle ravioli, then remove it from the water.
9
Add the white wine to the frying pan once the morels have started to caramelize. Cook for a minute to reduce the wine, then add the reserved morel broth and heavy cream.
10
Continue to simmer the sauce until the liquid reduces enough to coat the back of the spoon.
11
Add the parsley to the sauce. Taste and add additional truffle salt as needed.
12
Toss the cooked ravioli in the morel sauce & serve.