Truffle Honey Glazed Chicken
Makes 2 Servings
WINE PAIRING
German Riesling or Chenin Blanc
Poulet rouge is a great two-serving chicken breed that is tender with a more pronounced chicken flavor. The truffle honey glaze gives it earthiness and sweetness. The vanilla celeriac puree is almost sweet, but doesn't conflict with the savory elements on the plate, particularly given the honey on the bird. You can skip shaving truffles on top at the end if you want, but doing so really takes this dish to the next level.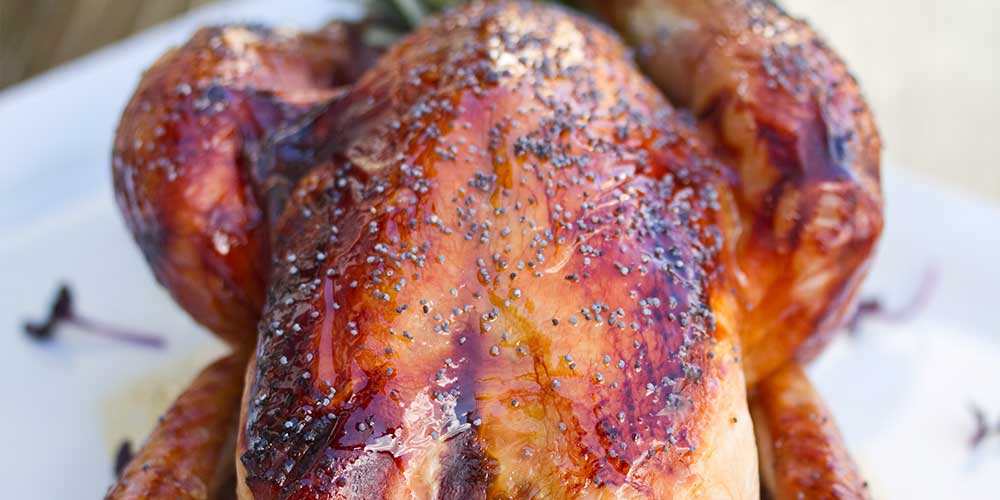 DIRECTIONS
2
When you're ready to prepare your chicken, preheat your oven to 425 degrees.
3
Add the celeriac to a pot along with the heavy cream and enough water to cover.
Simmer
over medium low heat until tender.
4
Strain the celeriac out of the cream mixture, reserving both. Puree the celeriac in a food processor with a couple tablespoons of the liquid (adding more as necessary during the pureeing process to reach a mashed potatoes-like consistency). Stir in the creme fraiche.
5
Stuff the bird's cavity with the herbs on the stem.
6
Fold the chicken's wings under it. Tie the chicken by starting with a tight loop around the "tail", then bringing the twine forward under the chicken, up around the wings, back to the sides of the legs, then around each leg and tie a knot to draw the two legs together. Cut off any excess twine (see photo for reference).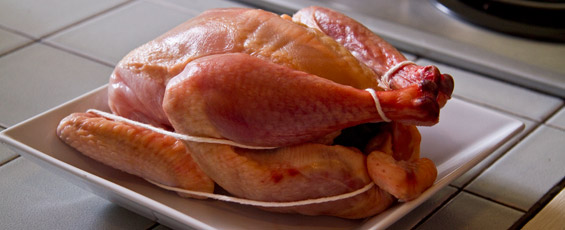 8
Use a spoon to put an even coat of honey glaze all over the surface of the chicken (except the bottom). Move the chicken to a small baking dish and into the oven.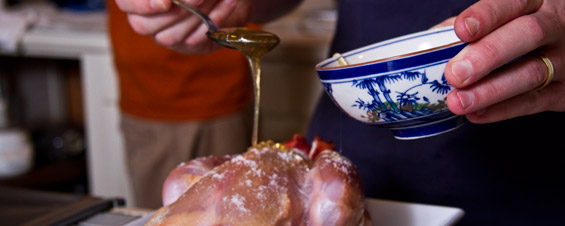 9
After 15-20 minutes, when the chicken's skin has begun to caramelize nicely, reduce the oven's temperature to 325 degrees & continue to roast until the chicken has cooked through (about an additional 25 minutes).
10
Remove the chicken from the oven and cut off the twine. Sprinkle the poppy seeds on top, then brush on some more of the glaze.
11
Just before serving the chicken, put the puree in a frying pan to reheat. Scrape in the seeds from the vanilla bean (
how to use vanilla beans
), add the crème fraiche & stir over low heat. Taste for seasoning and add salt as needed.
12
In a separate frying pan, pour in the chicken stock and simmer it to reduce the volume down to ¼ cup. Add the butter and the blanched veggies. Toss to coat, then season with a little sea salt.
13
Carve the chicken into portions.
14
Put down a base of the celeriac puree on the plate, then a portion of the chicken on top. Arrange the micro vegetables to the side. Top with shaved truffles if desired. Serve.