We made this super easy, super tasty glaze for poulet rouge chicken, but there's no reason you couldn't brush it onto a wide variety of poultry. It will even work with some honey-friendly meats, such as pork or game.

We used Selezione Black Truffle Honey. If you substitute another brand of truffle honey, you may need to adjust the amount depending on the strength of the truffle flavor. Pro tip: For extra crispy skin, rinse and pat dry your poultry of choice, and sore it in a bowl on the bottom shelf of your refrigerator, uncovered, overnight to dry the skin out.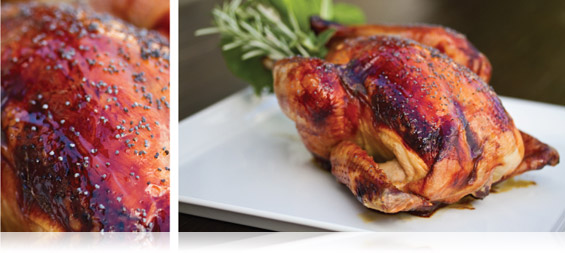 DIRECTIONS
1
Stir the two honeys together in a small bowl.

2
Set the bowl someplace warm, like the top of your stove near burners that are on. (You could probably microwave it too.) Warm the honey enough to soften it, so that it can be easily brushed on the bird.
3
Season your bird with salt, then brush or use a spoon to spread an even coat of honey all over the surface of the chicken (except the bottom). Roast according to your recipe.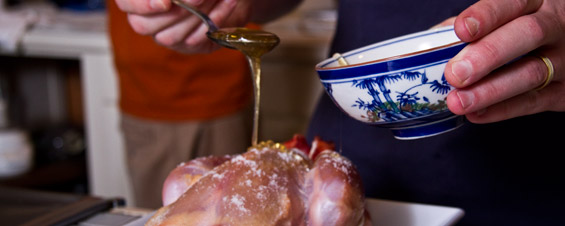 4
Once the bird comes out of the oven, brush on another layer of the honey.