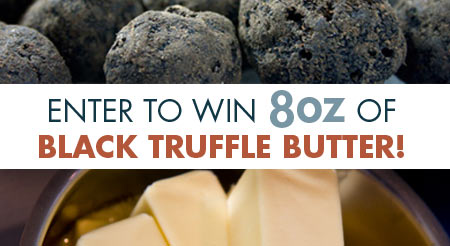 What's better than butter, AND better than truffles? (ok…maybe not fresh truffles).
Truffle Butter!  Rich, earthy, and smooth, this stuff's incredible melted into pasta, veggies, risotto…just about anything.
If your mouth is watering (and it should be) we've got great news for you: we're giving one person a whole 8oz tub!  Plus that lucky guy or gal gets to enter our Ridiculously Delicious Challenge in January!
Update: Truffle Butter-er Announced!
The random number selected was #89, Katie's entry. Congratulations Katie!
Katie wrote that her plan for the truffle butter was to serve it with fresh cheese over homemade lemon-pepper fettuccine….which sounds pretty darn good! We can almost taste the luscious earthiness of the black truffles melting into the citrus/spice zing of tender, freshly made pasta. Mmmmm….. Put a little Parmigiano Reggiano on top and we'll take three helpings.