Treviso & Black Garlic Rabbit Salad
Makes 6 Servings
WINE PAIRING
Ribolla Gialla from Friuli
Treviso is a deep red Italian bitter green that is often grilled, roasted, or braised as cooking reduces its bitter flavor. However, it can also be used in dishes showcasing that very bitterness, like this salad. Here the bitterness of the treviso takes center stage, enhanced by an astringent black garlic vinaigrette and tempered by moist rabbit meat.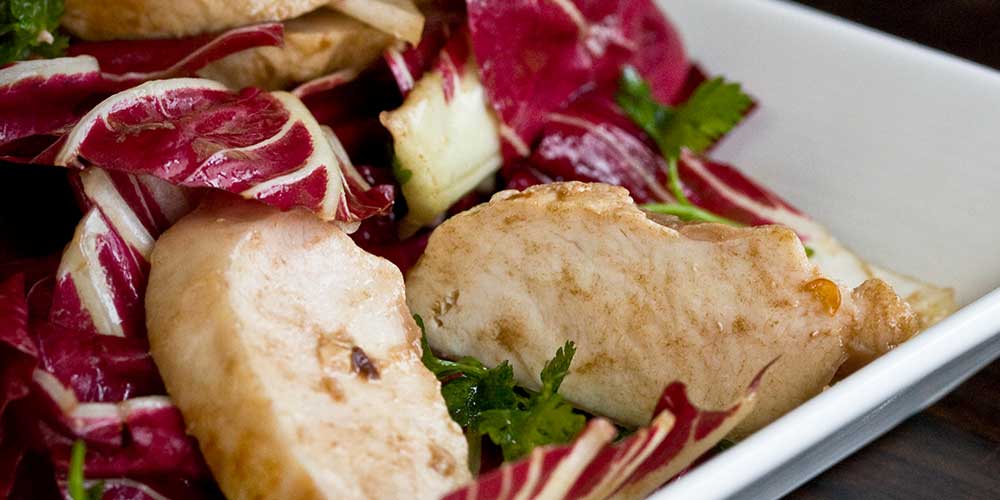 DIRECTIONS
1
Remove any excess fat or silver skin from the surface of the rabbit saddles. Season them with salt.
2
Heat 1/4 cup of the olive oil over medium heat in a saucepan with the rosemary, garlic cloves, and chili flakes.
3
Once the pan is aromatic, add the rabbit saddles.
4
Cook the rabbit saddles through, but take care not to dry them out (rabbit cooks similarly to chicken, remove it from the heat at 155 degrees and let it carry over cook to 160).
5
Remove the rabbit from the pan and reserve. Add the chicken stock and white wine to the pan.
6
Bring the liquid in the pan to a simmer and reduce it to a syrup consistency.
7
Strain the liquid and reserve.
8
In a food processor or blender combine the reserved liquid, black garlic cloves, and red wine vinegar. Blend until smooth.
9
Continue to blend, slowly drizzling in the oil, until an emulsion is formed.
10
Wash and rough chop the treviso. Pull the chervil, marjoram, and parsley leaves off their stalks. Rough chop the marjoram, leaving the other herb leaves whole. Toss the two together in a large bowl with a pinch of salt.
11
Slice the rested, room temperature rabbit saddles into medallions. Add the rabbit and resting juices, followed by about 2 ½ tbsp of the vinaigrette (you can add more later after tasting) to the salad. Toss the salad by hand, ensuring that all the treviso is well dressed.
12
Serve in entrée portions, appetizer portions, or family style (as we have here).