Lapin au Vin (Rabbit Stew)
Makes 6 Servings
WINE PAIRING
Aged Alsatian Reisling, Pinot Gris, or Hunter Valley Semillon from Australia
This rustic rabbit stew is prepared in the style of that famous French classic, coq au vin. The braised vegetables become incredibly rich during the cooking process thanks to the bacon, bacon fat, rabbit juices, and wine. In an unusual twist, the rabbit meat actually lightens the rich vegetables, rather than the other way around.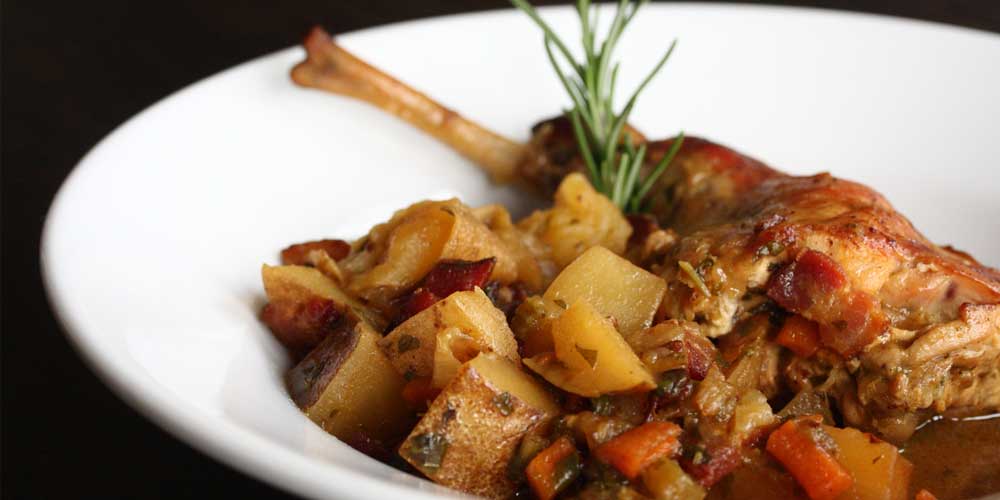 DIRECTIONS
1
Preheat your oven to 350 degrees.
2
Remove any visible silver skin or excess fat from the surface of the rabbit legs.
3
Cut the bacon into ½" slices and add to a dry skillet.
4
Cook the bacon over medium-low heat to render its fat out.
5
Once the bacon is crispy, but not crunchy, remove it from the pan and reserve, leaving the fat in the pan. Turn the heat up to medium and add the rabbit legs.
6
Brown (sear) the rabbit legs on each side.
7
Remove the rabbit. Add the carrot, onion, and celery to the skillet. Brown the vegetables, stirring occasionally.
8
Cut the potatoes into ½" cubes.
9
Deglaze the pan with the white wine and add the marjoram and potatoes.
10
Bring the stew base to a simmer and carefully nestle the rabbit legs in so they are partially covered by the liquid. Add any juices that have gathered on the resting plate and the reserved bacon.
11
Put the lid on the skillet and transfer it to the oven for 45 minutes to an hour (until the rabbit is cooked through).
12
Remove the skillet from the stove, and check the stew for consistency. If it looks a little dry, you can add chicken stock and simmer it briefly on the stove.
13
Taste the stew for seasoning, and add salt & pepper to taste. Serve.