Glazed Tiny Carrots & Beets
This Lilliputian side dish is super cute and super tasty.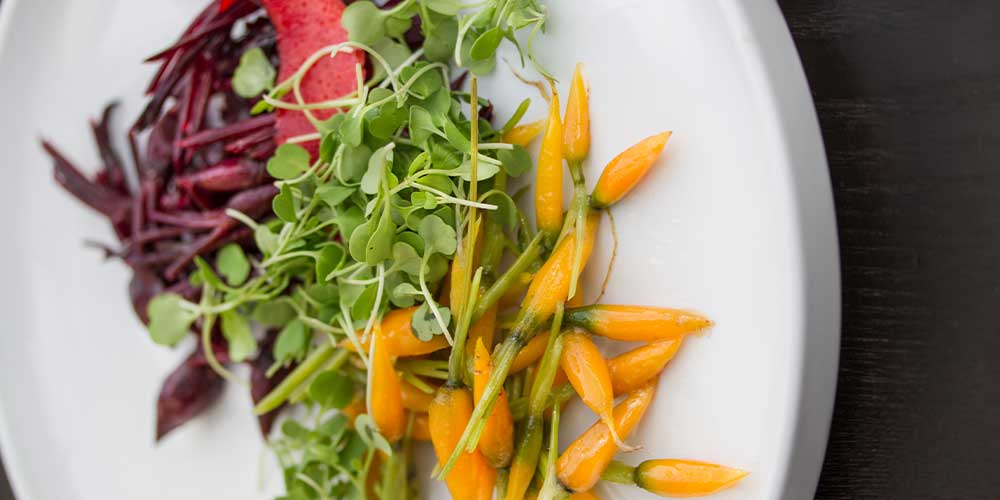 INGREDIENTS
100 Tiny Carrots (could substitute pieces of plain carrots)
50 Tiny Beets (could substitute pieces of plain beets)

2 tsp Salt

2 tbsp Unsalted Butter

2 strips Orange Zest

2 tbsp Maple Syrup (we used Bourbon Barrel Aged Maple Syrup)
DIRECTIONS
1
Peel & wash the vegetables, pull off most of the tops so only a short length of stem remains (see photos).
2
Put the veggies in deep frying pans (one pan for carrots, one for beets).
3
Add enough water to cover, a tablespoon of butter, a tablespoon of maple syrup and a teaspoon of salt in each pan.
4
Boil over high heat, until the vegetables are tender and the water has evaporated (if the vegetables are close to being done, and there's still a bunch of water, drain some of the water off).
5
When the water has reduced to a glaze, baste it over the vegetables.
6
Arrange the veggies on a platter or plates, top them with the micro arugula.  Serve.