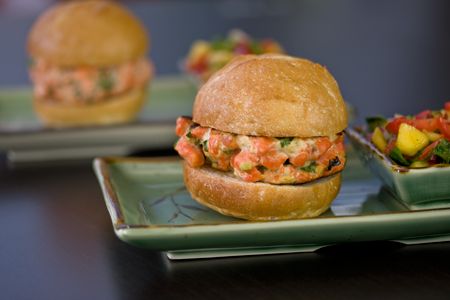 Out of all the recipes submitted to our salmon recipe collection, Thai Salmon "Sliders" with Mango Red Pepper Salsa, by Jasmin Baron from Livonia, New York was judged the best!
The runner-up salmon recipes were:
Phyllo Wrapped Herbed Goat Cheese Salmon entered by Belinda W. Carroll and
Salmon Cakes with Orange Sauce entered by Lesley Pew.
We had an amazing variety of recipes entered including brunch, appetizers, salads, pasta, tacos and main dishes. All of the recipes sound delicious and some were wildly creative. Two even included savory homemade ice cream! Salmon with a tropical flair seemed to be one of the most popular cooking methods.
Many recipes incorporated seasonal ingredients such as rhubarb, strawberries and nectarines.
Congratulations Jasmin!
Thai Salmon "Sliders" with Mango Red Pepper Salsa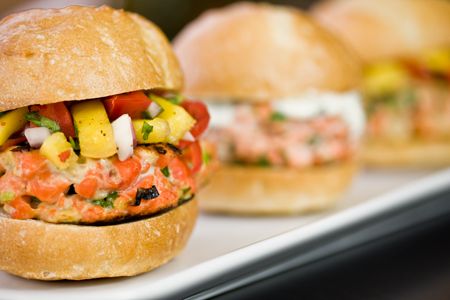 For the sliders:
1 lb salmon fillet, skin removed
1 egg
2 large garlic cloves, finely minced
1 tsp fresh ginger, grated
¼ cup cilantro leaves, finely chopped
¼ cup green onion, chopped (light green and green parts only)
2 tsp soy sauce
1 tsp fish sauce
1 tsp sesame oil
½ tsp red chili flakes
olive oil (for frying)
1 package (12) small, soft dinner rolls (such as King's Hawaiian)
butter or mayo as desired (for the rolls)

For the salsa:
1 medium mango, peeled and chopped
1 small red bell pepper, seeded and chopped
1/3 cup red onion, finely chopped
1/3 cup cilantro leaves, finely chopped
juice of one lime
¼ tsp red chili flakes
salt and pepper to taste
Salmon Slider Directions:
Prepare the salsa first to allow time for the flavors to blend. Mix all of the salsa ingredients in a small bowl and chill, covered, for at least half an hour.
Using a food processor fitted with a metal blade, pulse salmon until coarsely ground. Add egg and pulse until well mixed. Transfer salmon mixture to a bowl. Add garlic, ginger, green onion, cilantro, sesame oil, soy sauce, fish sauce and chili flakes and mix together thoroughly. Shape salmon mixture into 12 small patties and refrigerate, covered, for at least half an hour.
In a non-stick pan heat olive oil over medium-high heat. Fry salmon patties until lightly browned on one side, about 2-3 minutes. Flip patties over and cook until lightly browned on the other side, about 2 minutes. Check to see patties are cooked through.
Toast rolls if desired and spread with butter or mayo or both. Place one patty on each roll and top with a tablespoon or two of salsa.
___________
Browse More:
Salmon Recipes
Fish Fillet Recipes