This is an adaptation from a recipe for "crack salad" that our favorite chef, Becky Selengut, created for her cookbook Good Fish. We've adapted all the flavors of the salad to a sandwich instead, taking the classic lobster roll in a very different (and addictive) direction.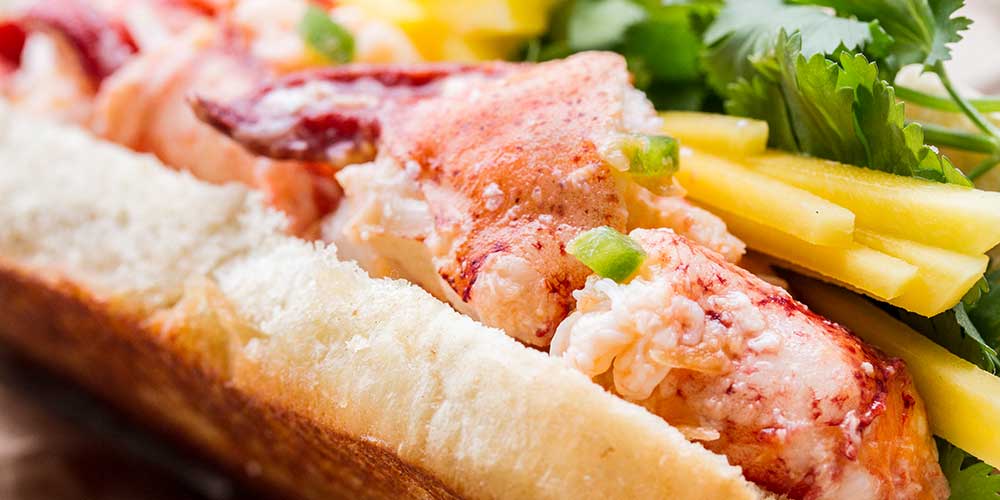 INGREDIENTS
4 Hot Dog Buns

1 tbsp Butter

1# cooked Lobster Meat (we butter poached it), cubed
1/2 Red Fresno or Jalapeno Chile, brunoised (cut into small cubes)

1 tbsp Thai Sweet Chile Sauce

Juice of 1 Lime

1/4 cup Dry Roasted Peanuts, chopped

1 English Cucumber, sliced into thin planks

1 Under-Ripe Mango (still firm and slightly green), julienned (cut into thin strips)

1 bunch Cilantro
DIRECTIONS
1
Slice 1/4 inch off the sides of each hot dog bun, to create the flat-sided look of a lobster roll. Brush each of these sides with butter, and toast in a skillet until nicely toasted and medium brown.
2
Chop the cooked lobster into generous but bite-sized chunks, and toss lightly with the red chile, Thai sweet chile sauce, lime juice, and chopped peanuts.
3
On each roll, lay down the cucumber slices, mound with a generous helping of lobster salad, and top with mango and cilantro. Serve.