What's more decadent than lobster?  Lobster poached in butter!
Here's the basic recipe for lobster poached in beurre monte/beurre fondue, an emulsified blend of butter and water.   See how to make beurre fondue for more process photographs and technique tips.
Once poached the lobster can be tossed with pasta, added to salads, added to finished soups or used in a range of other recipes…just be sure to add it at or near the end of the dish's cooking process, so its heated through rather than further cooked.
Ingredients:
Peeled Lobster Meat, Cubed         (We used Lobster Tails)
1lb chilled Unsalted Butter, cubed
2tbsp Water
Directions:
1. Bring the water to a simmer.
2. Turn the heat down to medium low.  Whisk the butter into the water a few pieces at a time, whisking constantly.  Once the mixture is thick and creamy, add the lobster meat.


3. Poach the lobster for five to seven minutes, until cooked through.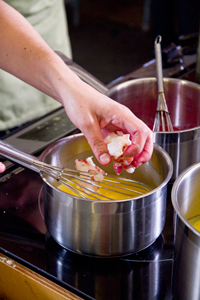 4. Use the lobster in the recipe of your choice.
___________
Browse More:
Lobster Recipes