This spiced take on a classic brandy sidecar cocktail will grab your attention the moment the rim hits your taste buds. Szechuan peppercorns have a strong floral note to their flavor profile and a cause a lingering tingle on the tongue.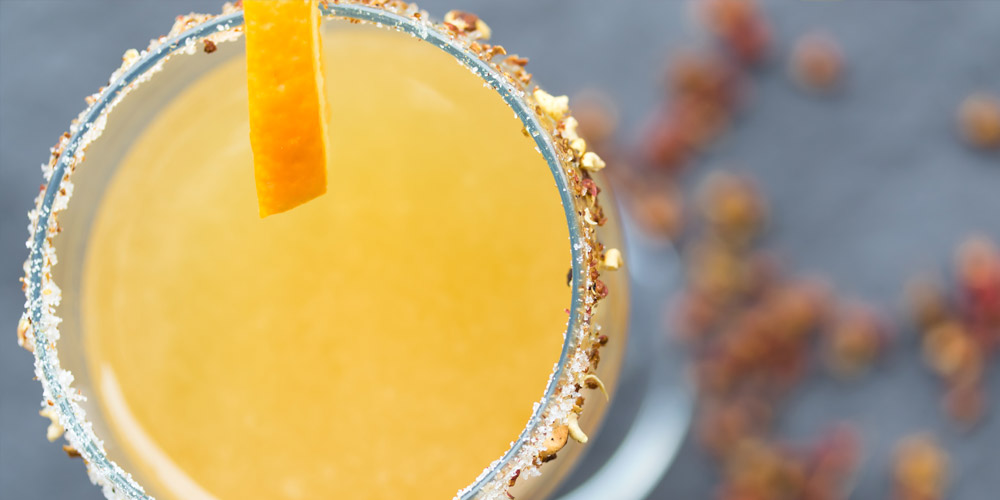 INGREDIENTS
2oz Brandy (we used Cognac)

¼ Orange, cut into thick wedges

1/2oz Lemon Juice
Rim: ¼ cup Sugar, ¼ cup Szechuan Peppercorns (will make enough for 8 cocktails)
DIRECTIONS
1
Grind together the Szechuan peppercorns and sugar in a spice grinder or clean coffee grinder. Move the contents to a narrow bowl for use rimming the glass.
2
Rub the rim of a wine glass with one of the orange wedges to coat with a thin layer of juice. Dip the rim in the peppercorn & sugar mixture.
3
Put the orange wedges in a mixing glass with the simple syrup. Muddle them.
4
Add the lemon juice, brandy and ice to fill the glass.
5
Shake until well chilled.
6
Double-strain the contents of the shaker into the wine glass. Garnish with the orange wedge & serve.