Sweet Potato Soup with Lobster & Corn Cream
Makes 8 Servings
WINE PAIRING
White Bordeaux
This soup is rich, creamy, smooth, sweet, earthy, and, thanks to the lobster, incredibly luxurious. It's a great way to stretch your lobster dollars further by getting a lot of servings out of a single lobster tail without anyone complaining that they didn't get enough.
(Well…no more than they'd normally complain about never having enough lobster)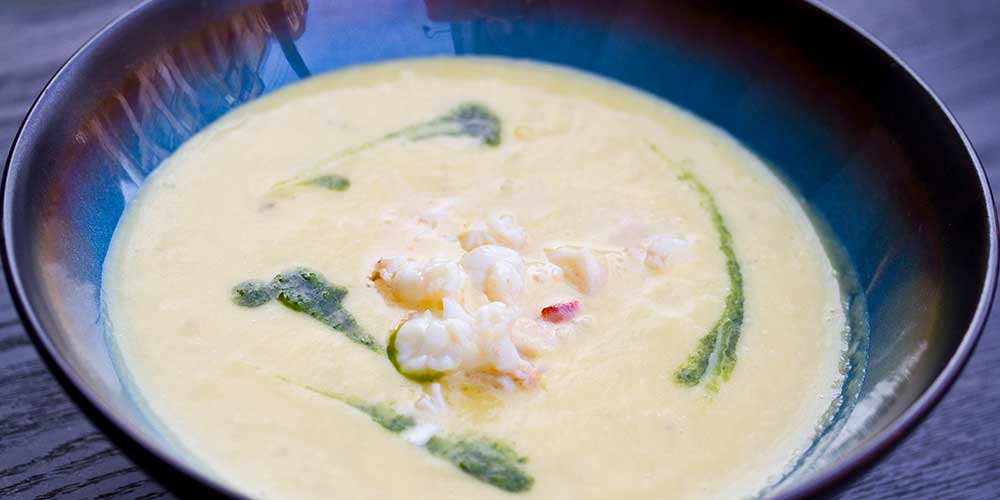 INGREDIENTS
Soup:
1 Large Butter Poached Lobster Tail, Cubed (How to Butter Poach Lobster)
2 large Sweet Potatoes
3 tbsp Olive Oil
1 Onion, roughly chopped
3 Carrots, roughly chopped
2 spears of Celery, roughly chopped
1/2 cup White Wine
1 quart Chicken Stock or Broth
1/2 cup of Heavy Whipping Cream
Juice of 2 Oranges
5 Fresh Sage Leaves
Corn Cream:
Kernels from 1 Ear of Corn or 1 cup Frozen Corn
1/2 Cup + 2 tbsp Heavy Whipping Cream
1 Bay Leaf
Pinch of Salt
DIRECTIONS
1
Preheat your oven to 350 degrees.
2
Roast the sweet potatoes on a sheet pan until tender, then remove them from the oven & set them aside to cool.
3
Make the Corn Cream – In a frying pan combine the 1/2 cup of cream, corn, bay leaf and salt. Bring the mixture just to a boil, then remove from the heat.Remove the bay leaf from the corn mixture. Move the mixture to a blender, add the remaining 2 tbsp of cream & blend to a smooth puree. Reserve until the soup is finished.
4
In a large pot, saute the onions, carrots and celery in the olive oil until softened.
5
Deglaze the pot with the white wine & simmer to reduce by half. Add the chicken stock & simmer until the vegetables are tender.
6
Remove the bay leaf and move the soup base to a blender. Blend until smooth.
7
Peel the cooked sweet potatoes & add them to the soup base. Blend until smooth.
8
Taste and add salt & pepper as needed. Add the heavy cream, sage leaves & orange juice. Blend until smooth.
9
Put the soup in individual bowls. Top each with a dollop of the corn cream, a few pieces of butter poached lobster, and (if desired) the chive oil. Serve.