Makes 4 Appetizer/Side Servings
WINE PAIRING
Assyrtiko Greek White Wine or Xinomavro Greek Red Wine
This play on black bean cakes uses Yellow Eye Stubens instead of the traditional Black Turtle beans. They're crispy on the outside and warm, creamy and comforting on the inside with a slight crunch from the raw onion. The refreshing, crisp bite of the tzatziki sauce brightens them up.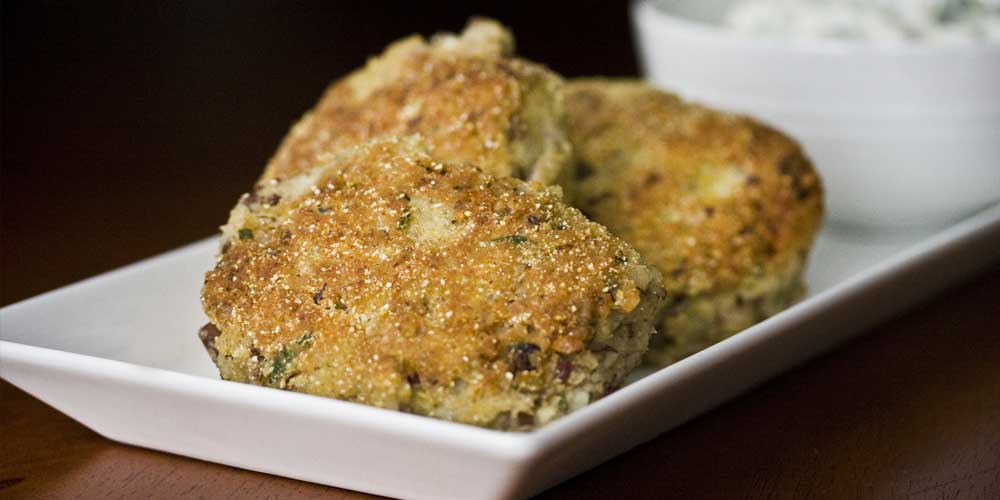 INGREDIENTS
½ to 1 cup dry Yellow Eye Stuben Beans

1 Egg

2 tsp Coriander, ground

2 tbsp Fresh Parsley, chopped

¼ cup Onions, minced

2 tbsp Cornmeal, plus more for dredging

Salt to taste

Olive Oil (not extra virgin)
DIRECTIONS
1
Soak the beans overnight in water & rinse them off.
2
Add them to a pot of fresh water and cover, bring the water to a boil for three minutes, then reduce to a simmer for 60-90 minutes (until tender).
4
Mash the beans with the onion, parsley, garlic, coriander, cornmeal, salt and egg to form a paste.
5
Form the paste into small cakes and dredge them in the extra cornmeal to coat.
6
Heat ¼th of an inch of olive oil in a pan to pan-fry the bean cakes.
7
Pan fry the bean cakes on each side until a brown crust develops.
8
Drain the finished cakes on paper towels to collect excess oil.
9
Serve the cakes with the tzatziki sauce on the side.