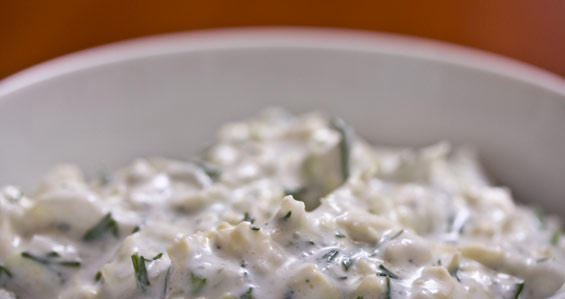 Tzatziki Sauce
Whether you spell it tzatziki, tsatsiki, tzadziki or tatziki, there's no denying this sauce is delicious. Crisp, refreshing, creamy, herby and slightly sour, it's great on salads, sandwiches, as a dipping sauce or used to balance rich meats.
Ingredients:
3 cups of Napa Cabbage, shredded
2 tbsp Fresh Dill, rough chopped
2 tbsp Fresh Parsley, rough chopped
3 Garlic Cloves, minced
1 ¼ cups Plain Full-Fat Yogurt
Juice of one Lime
Salt and fresly ground Pepper to taste
Directions:

1. Combine all ingredients in a bowl.
2. For optimal flavor, cover and let the sauce sit in the refrigerator for a couple of hours (though you could use it immediately).

___________
Browse More:
Fresh Herb Recipes