Strawberries with Hibiscus & Cream
Makes 4 Servings
WINE PAIRING
Sparkling Rose Wine
Colorful, light and refreshing, this is the perfect light dessert for spring or summer.
You'll have leftover hibiscus sugar, which is beautiful and can be used to rim cocktail glasses or as a finishing sugar for almost any dessert (especially those featuring fruit).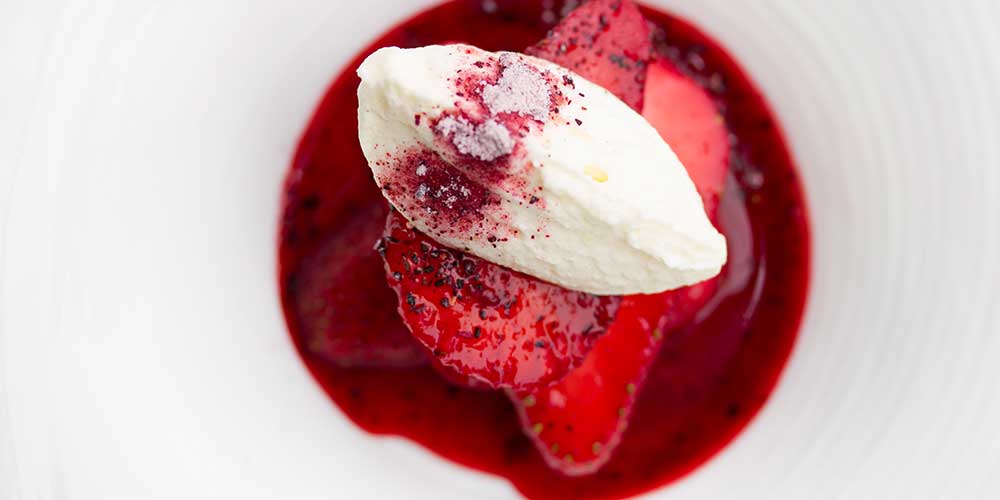 INGREDIENTS
1/3 cup Heavy Cream

1 pint Fresh Strawberries, sliced lengthwise

1 tbsp Hibiscus Vinegar

1 small pinch Sea Salt

Black Pepper
Hibiscus Sugar:

2 tbsp crushed Dried Hibiscus Blossoms

2 tbsp Granulated Sugar
DIRECTIONS
1
Whip the heavy cream until thick enough to dollop.
2
Make the Hibiscus Sugar:
Grind together the dried hibiscus and granulated sugar in a spice grinder or clean coffee grinder (
how to make flavored sugars
).
3
Gently mix the sliced strawberries with the hibiscus vinegar, ½-1 tbsp. of the hibiscus sugar (how much depends on how sweet your particular strawberries…use ½ tbsp. if they're nice and sweet, more if they're not), a grind of black pepper, and small pinch of sea salt to coat.
4
Let the strawberries rest for at least 10-15 minutes to draw out their juice.
5
Spoon some of the resulting juice into the bottom of a small bowl, then layer the strawberry slices above it.
6
Top the slices with some of the whipped cream (a decorative dollop or a
quenelle
). Sprinkle with some of the remaining hibiscus sugar. Serve.