Cold Spicy Mango Soup with Corn Foam & Cilantro Oil
Bright, refreshing spicy, tangy, sweet & savory with a fluffy corn chile foam.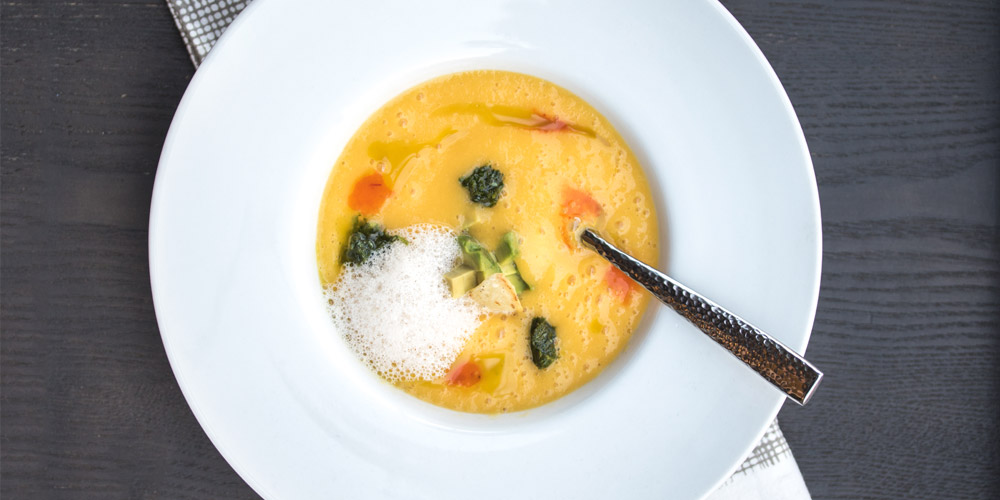 INGREDIENTS
2 Mangos, peeled & cubed

3 tsp Portland Red Fresno Pepper Sauce, plus extra for garnish

2 tsp Cameroon Mango Vinegar

1/2 cup leftover Corn Liquid from Corn Foam Recipe

3/4 tsp Kosher Salt

3/4 cup Water

3/4 tsp Red Boat Fish Sauce

Squeeze of Lime Juice

1 Corn Tortilla

½ Haas Avocado, peeled & small diced & tossed with a little Lime Juice

Oil for Frying
Cilantro Oil:

½ bunch Cilantro, stems & leaves

½ cup Olive Oil
DIRECTIONS
1
Make the corn foam, reserving the leftover liquid.
2
Briefly blend the cilantro and olive oil until smooth, then pour through a fine mesh strainer to extract the oil. Reserve both the strained oil & the remaining cilantro pulp for garnish.
3
Fry the corn tortilla in a shallow layer of oil until crispy. Cut into small strips.
4
Combine the mangos, remaining corn liquid, mango vinegar, water, fish sauce, lime juice, Portland pepper sauce, and kosher salt in a blender. Blend until smooth.
5
Put the soup in bowls, topped with some of the avocado. Drizzle with a little cilantro oil. Top with a tortilla chip, some of the reserved cilantro, a few drops of the hot sauce, and a little of the lecithin foam. Serve.