Light and airy, this delicate lecithin foam has the flavor of corn with just a bit of complexity from the hot sauce. Use it as a finishing touch for soups and entrees.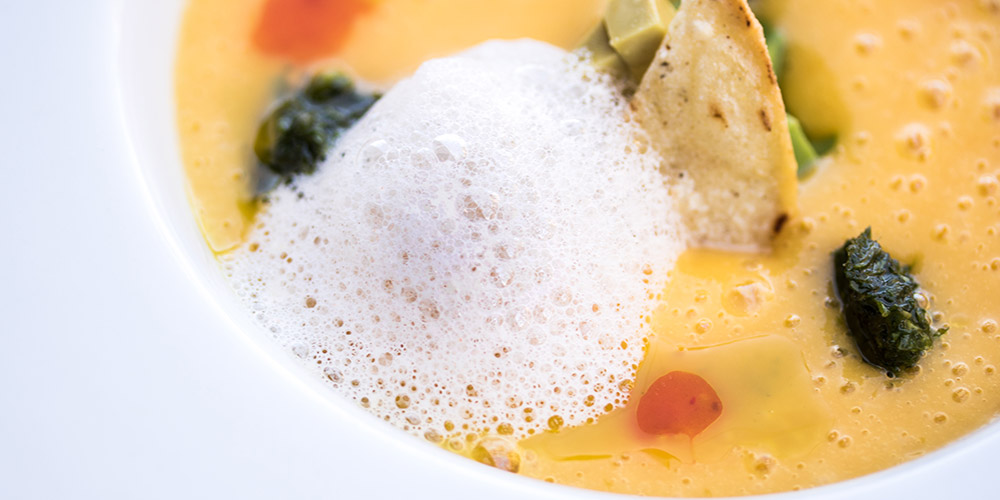 INGREDIENTS
1 ear of Corn, shucked

8 grams Soy Lecithin

¼ tsp hot pepper sauce (we used Red Fresno Portland Pepper Sauce)

¼ cup Water

1/8 tsp Kosher Salt
Immersion (Stick) Blender
DIRECTIONS
1
Cut the kernels off the ear of corn. Put them in a blender. "Milk" the corn cob with a spoon, scraping the remaining kernel bits and corn liquid into the blender. Add the water and blend until liquid.
2
Measure out 2000 grams (approx. 70 1/2 oz) of the corn liquid. Add the salt, pepper sauce, & soy lecithin.
3
Use an immersion blender to beat air into the corn liquid mixture until a foam forms.
4
Skim off the foam and use it to garnish dishes (or store it in a bowl, briefly, until needed).
5
Use the immersion blender again to create more foam from the remaining liquid. Repeat as necessary.