Makes 4 Servings
WINE PAIRING
Washington State Syrah, or Barolo
Meats cooked sous vide (French for "under vacuum") have a softer texture than those cooked using more conventional cooking techniques because they are cooked for a long time at a low temperature. After being cooked sous vide, they're then briefly seared and roasted to give them additional flavor. Sous vide cooking can also be convenient because you can do part of the prep work ahead of time, pack your food in a vacuum bag, and just drop it in your sous vide cooker when the time comes.
DIRECTIONS
1
In a vacuum sealer bag, combine the rack, the smashed garlic clove, bay leaves and thyme. Drizzle 2 tsp of olive oil over the meat, taking care not to let it hit the sides of the bag.
2
Vacuum seal the bag according to the vacuum machine manufacturer's instructions. Store the sealed bag in your refrigerator until you're ready to cook it.
3
Fill your sous vide machine with water and set it to 55°C/131°F. Put the bag with the wild boar rack in the water bath and cook for an hour and 15 minutes.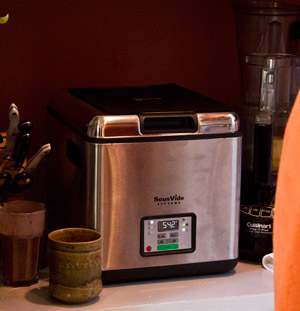 4
Preheat your oven to 375 degrees.
6
Melt the butter in frying pan, add minced garlic and mushrooms. Cook, stirring occasionally, until soft. Keep warm.
7
Remove the rack from the sous vide machine and let it cool in the bag, then break the seal and remove it.
8
Slice the rack in half. Sear the racks on all sides in oiled, oven safe frying pans over high heat. Move them to the oven and roast to the internal temperature of your choice. We cooked ours to 140 degrees, which is rather rare, but the USDA recommends wild game meat be cooked to an internal temperature of 165 degrees.
9
If desired, use a culinary torch to toast the bones for a more traditional roasted-rack look.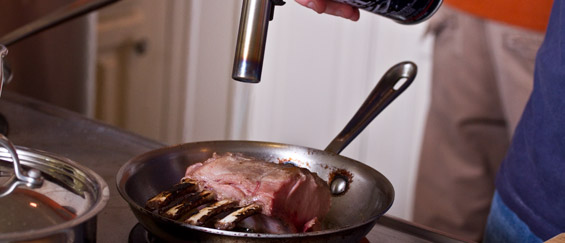 10
Slice the rack into two-rib portions and serve them with the mushrooms and the potatoes.
11
Finish the plate with a drizzle of extra virgin olive oil. Serve.
Browse More:
Wild Boar Recipes
Rack Recipes