Sous Vide Strip Steak w/ Chipotle Honey Onions
Makes 2 Servings
WINE PAIRING
"big" California Napa Valley Cabernet Sauvignon, Porter Beer or Stout Beer
These caramelized onions are sweet, honeyed, smoky and spicy, an exciting accompaniment to a superb grass-fed steak.
This is a sous vide recipe, but you could also cook the steaks using your preferred method on the grill, stove, etc (our recommended steak cooking techniques).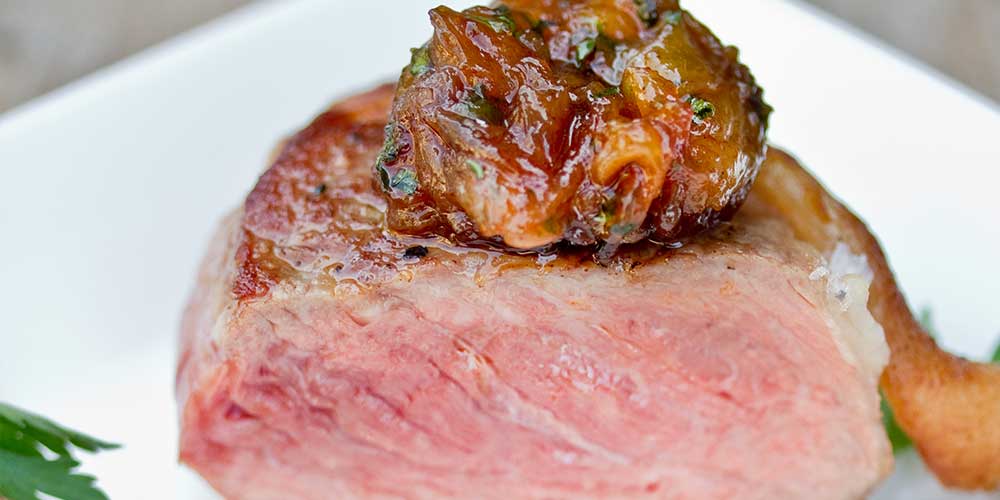 INGREDIENTS
4 cups Onions, thinly sliced

3 tbsp Extra Virgin Olive Oil

1 tbsp Mesquite Honey

1 heaping tsp Chipotle Chile Powder

¼ cup Honey Drinking Vinegar

2 tbsp Fresh Italian Parsley, finely chopped

Generous Pinch of Salt
DIRECTIONS
1
Preheat your sous-vide rig (water oven, immersion circulator, etc) to 110 (for rare) or your desired temperature.
2
Prepare the steaks for cooking sous vide & put them in the water bath to cook to your desired level of doneness (
how to cook steaks sous vide
).
3
Toss the onions with the salt and extra virgin olive oil.
4
Put the onions in a cast iron skillet (or large frying pan) on the stove over medium-high heat.
5
Once the onions start to sizzle, turn the heat down to medium low. Let the onions
caramelize
slowly, stirring occasionally, for about a half hour.
6
bout ten minutes into caramelization, add the chile powder and mesquite honey.
7
Once the onions are soft and well caramelized, remove them from the skillet, squeezing out any residual oil back into the pan.
8
Once the steaks have cooked for an hour, remove them from the sous vide machine, remove them from their bag(s), and dry them off.
9
For about five minutes over high heat,
sear
the steaks on all sides in the residual oil in the skillet you cooked the onions in. Take particular care to sear the side with the fat cap to render it down.
10
Remove the steaks and drain out all the residual oil/fat from the pan. Wrap the steaks in foil to keep them warm.
11
Turn off the heat. Add the onions back to the pan along with the drinking vinegar and chopped parsley. Stir to combine.
12
Stir any juices from the steaks' resting plate into the onion mixture.
13
Optional: Trim any remaining fat cap off of the steaks if desired.
14
Slice the steaks & serve them with the onion sauce and your choice of sides.