Roasted Fennel, Carrots & Poblano Chilies
This root-vegetable side dish pairs fennel bulb and carrots with fruity, earthy poblano chilies, acorn squash seed oil & maple vinegar. Enjoy!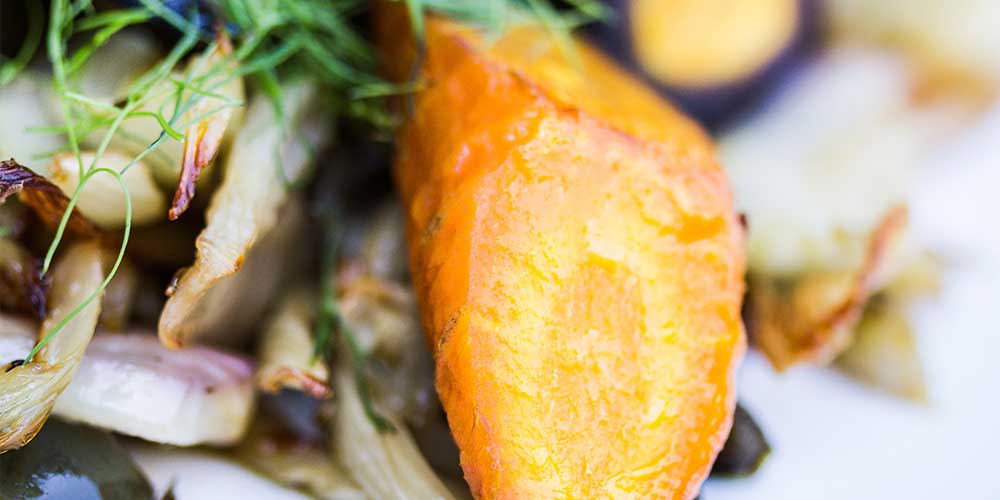 INGREDIENTS
2 Fennel Bulbs
2 Poblano Chiles
½ tsp Sicilian Wild Fennel Seeds (could substitute conventional fennel seeds)
1 bunch Multicolored Carrots
1 tbsp Maple Vinegar, plus extra to finish (could substitute white wine vinegar & maple syrup to taste)
¼ cup Extra Virgin Olive Oil
1-2 tsp Acorn Squash Seed Oil
Salt & Pepper
DIRECTIONS
1
Preheat your oven to 400 degrees.
2
Thinly slice the fennel bulbs (1/3"-1/4" thick), reserving the fronds.
3
Remove the seeds & membranes from the poblano chiles. Cut them into ½" thick strips.
5
Toss the fennel, chiles & carrots with the maple vinegar, olive oil, fennel seeds, salt & pepper. Spread them out on a baking sheet.
6
Roast the vegetables until tender (about 50 minutes), stirring part way through the roasting process.
7
Plate the vegetables. Garnish them with the reserved fennel fronds and drizzle with the acorn squash seed oil and a little extra maple vinegar.