Grilled Shrimp with Smoky Chile Aioli
Makes 4 Appetizer Servings
WINE PAIRING
Kabinet Riesling
Succulent grilled shrimp with charred lemons for squeezing over them and a smoky, deep chile aioli. Beautiful on the plate and delicious!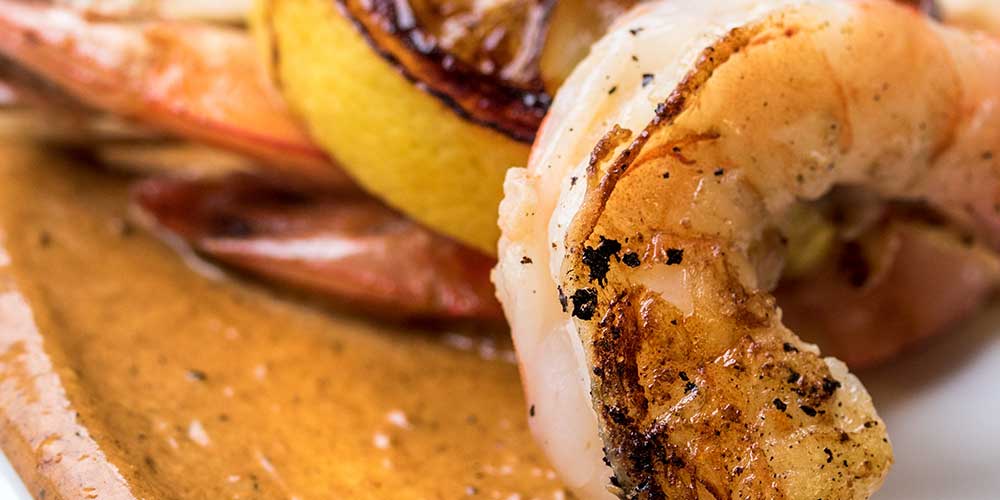 INGREDIENTS
1lb Large Shrimp

2 Lemons, cut in half width-wise

Granulated Sugar
Smoked Chile Aioli:

1 tbsp + ½ tsp Sherry Vinegar

1 clove Garlic

½ tbsp. Dijon Mustard

½ tsp Salt

2 tbsp Water

½ tsp Honey

2 Egg Yolks

¾ cup Canola Oil
Shrimp Stock:

Shells from the Shrimp

2 sprigs Fresh Thyme

4-5 Flat Leaf Parsley Sprigs

1 tbsp Shallot

2 ½ cups Water
DIRECTIONS
1
Take the shells off the shrimp, up to the tails. Devein the shrimp. Reserve the shells, don't throw them away!
2
Toast the shrimp shells in a dry pot, stirring occasionally so they don't scorch, until dry & aromatic.
3
Add the other shrimp stock ingredients to the pot & simmer for 20-30 minutes.
4
Toast the chilies in a dry pan until aromatic. Tear them apart and shake out the seeds, discarding them.
6
Make the Aioli
:
In a food processor combine all the aioli ingredients except the egg yolks and oil. Blend to a smooth puree, then add the eggs. While continuing to process, slowly drizzle in the canola oil until a smooth emulsion forms.
7
Sprinkle the cut inner portions of the lemons with granulated sugar. Lay them in a smoking hot skillet, cut-side down & cook until the sugar has caramelized & burnt. Immediately remove them from the pan & take the pan off the heat (deglaze the pan with water to make it easier to clean).
8
Skewer the shrimp on two skewers. Sear them in an oiled pan until they're golden brown on the bottom, then flip them and briefly cook the other side.
9
Serve the shrimp skewers with the chile aioli and burnt lemons (for squeezing over them).